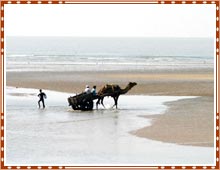 Gujarat has the longest coastline of all the states in India. As a result, the state and its neighboring Union Territories offer a plethora of beaches. These beaches are the finest in the country and attract a huge number of tourists every year. The pristine waters, soft sands and rich flora and fauna are their main attractions. You can relax and unwind amidst the natural serene surroundings. It's a promise that your trip to these exotic beaches of Gujarat will provide you with an unforgettable experience. Apart from this, the towns located near the beaches have immense possibilities for sightseeing. They house a number of historical forts, palaces, churches and museums worth seeing.
Ahmedpur Mandvi Beach
Ahmedpur Mandvi Beach is situated on the coastline of the state of Gujarat and is one of the finest beaches in India. It is located in Ahemdpur Mandvi, which is the historic port town of Maharao of Kutch.
Chorwad Beach
Chorwad Beach of Gujarat is another splendid beach situated on the west coast of India. It is situated at a distance of 66 km from Junagadh. Chorwad has a high potential of attracting both domestic as well as international tourists. The beach constitutes of rocky hills and presents opportunity for thrilling boat rides.
Diu Beach
Diu beach is situated off the Saurashtra coast and is connected to the state of Gujarat via a causeway. Diu is a secluded island and does not have much population. This makes it the place ideal for a serene vacation, away from the worries of daily life.
Gopnath Beach
Gopnath Beach is situated in the Bhavnagar district of Gujarat. It is located on the coast of the Gulf of Kambhat, at a distance of 75 km from the city of Bhavnagar. Gopnath is a pristine beach known for its natural beauty.
Kutch Mandvi Beach
Kutch Mandvi is an important beach in Gujarat, situated at Mandvi. Mandvi is the historic port town of Maharao of Kutch, located at a distance of 75 km from Bhuj. Kutch Mandvi was once inhabited by the Maharao of Kutch and was an important seaport.