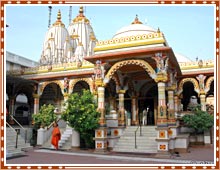 Gandhinagar is the capital city of Gujarat. It is located on the west bank of River Sabarmati, about 32 km from Ahmedabad. The city is named after the Father of the Nation, Mahatma Gandhi. After the partition of Gujarat and Maharashtra, it was decided to make a new capital for Gujarat. As a result, Gandhinagar was established in the vicinity of Ahmedabad. It is a well organized and architecturally integrated city and is slowly picking up as a tourism destination.
Gandhinagar is the administrative headquarter of Gandhinagar District. It is a major center of learning in Gujarat. Many educational institutes have sprung up in the city, which provide knowledge in different fields like science, medicine and engineering. Students from across the country throng the campus of these institutes every year. Some of the prestigious institutes in the city are National Institute of fashion Technology (NIFT), National Institute of Design (NID), Institute of Plasma Research, Indian Institute for Advanced Research.
Tourist Attractions
Akshardham Temple
Akshardham Temple is one of the main attractions of the city. It was built by the Swaminarayan Sect, one of the richest sects in the world. The temple is made up of pink sandstone and adorned with intricate carvings. It has a huge complex covered with sprawling gardens and admirable fountains.
Children's Park
Children's Park is one of the most sought after parks in the capital. It is a good picnic spot for families and kids. The main attraction of the park is the mini train and the lake with boating facility.
Sarita Udyan
Sarita Udyan is another picnic spot along the Sabarmati River. It is an ideal destination for a delightful picnic. There are a number of recreational facilities available here for the entertainment of the visitors.
Deer Park
Deer Park is situated just adjacent to Sarita Udyan, on the outskirts of the city. It serves as the perfect retreat from the hustle and bustle of city life. The park is quite popular amongst both the young and the old, alike.
Craftsmen's Village
Craftsmen's Village is located at a distance of merely 7 km from the capital. The city is famous for its Bandhani Sarees. It is also known for its wooden blocks carved with exquisite designs for hand printing on cloth. The skilled craftsmanship of these villagers is still in great demand in other textile centers of the state. It is a good place to buy saris and hand printed material at reasonable prices.
How to Reach Gandhinagar
By Air:
Nearest Airport is situated at Ahmedabad.
By Rail:
Nearest Railway Stations are Gandhinagar and Ahmedabad and are connected with all the major cities of India.
By Road:
State Transport buses connect various cities of Gujarat.