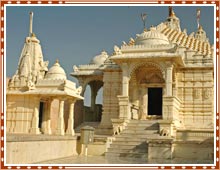 Palitana is situated at a distance of 51 km from Bhavnagar and serves as an important Jain pilgrimage of Gujarat. The Shatrunjay Hill loacted nearby the place hosts approximately 900 big and small Jain Temples. These temples are dedicated to the 24 Jain Tirthankarars. Apart from this, the significance of the place dates back to the Mahabharata era of India. It is said that three Pandavas, Yudhishthir, Bheem & Arjun got Nirvana here. Therefore, it is known as Siddhakshetra, where one attains Moksha, amongst Jain devotees.
One of the most important temples in Palitana is the Digamber Jain Temple. It is an ancient temple that encompasses 9 shrines with the idols of all the Tirthankaras. The main shrine contains the idol of the principal deity, 1008 Bhagwan Shantinath. It is made of white stone and can be seen in Padmasana posture. According to the Jain calendar, it was installed here in 1686. The temple also houses beautiful idols of Yudhishthir, Bheem & Arjun. Two other idols of Bhagwan Parsavnath are located here.
One is called Chintamani Parshvanath and other is called Vighnaharan Parshvanath. On the both sides of northern gate, foot images of Bhagwan Adinath & Bhagwan Sambhavanath can be seen. It is said that Bhagwan Adinath visited Shatrunjay Hill 93 times. All the Jain temples of Palitana are built in marble and stand adorned with ornate sculptures. Each and every temple located on this hill is a specimen of art. The temple trail starts from the foot of the hill. There are 3745 steps up to the peak of the summit.
Devotees take around two hours to reach the top. The steps were constructed in 13th century, under the supervision of Jain Minister, Vastupal. On their way up, the pilgrims are not allowed to take any eatables along. They are only allowed to drink water. For the purpose, a number of water posts have been made available along the course. The pilgrims eat only after they descend the mountain. The major spot up the hill is the one with the footprints of the Tirthankaras. All the shrines contain the idols of the Tirthankaras, with bejeweled eyes.
The devotees make offerings at the main shrine of Bhagwan Adinath. The magnificent temple has been renovated and rebuilt a number of times. The original temple was made of wood. Later, Siddhraj Jaisimha's minister Udaymehta built it in marble. Siddhraj's descendant Kumarpal further extended the temple. Besides these, there are other shrines dedicated to Adinath, Kumarpal, Vimalshah, Samprati Raja and the Chomukh. You will also find temples dedicated to Hindu Gods and Goddesses here. There is also a Muslim shrine known as the Angar Pir. Childless women pray here for children.