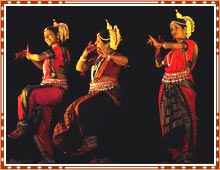 Modhera dance festival is one of the major festivals organized in the state of Gujarat. It is primarily a dance festival and showcases the various traditional dance forms of the region. It is one of the main attractions for the art lovers. Traditional Gujarati dance and music performances presented here are nowhere else to be seen in India. Modhera is located in the Mehsana district of Gujarat. The Sun Temple here serves as the venue for this extravaganza, held every year in the month of January.
The temple was built during the reign of the Solanki king Bhimdev I. It was built to commemorate the majesty of the Sun God. The site of the Modhera dance festival is just mesmerizing, with the Sun Temple as its backdrop. This three day festival is organized by the Tourism Corporation of Gujarat, to promote the performing arts of Gujarat, especially classical dance and music. Special classical dance and Gujarati folk dance performances mark the occasion. These performances take place within the premises of the temple.
It is a sure delight to witness the celebration that reminds one of the glorious past of the place. The walls of the Sun Temple hold beautiful figurines of Lord Surya, the Sun God. At the time of the festival, the temple is lit with the help of flood lights, further attracting attention to the intricate carvings and minutely detailed figurines chiseled on the temple exteriors. The most fascinating feature of the temple is that its construction is such that sun rays illuminate the main deity in the innermost chamber of the shrine, through the main doors.