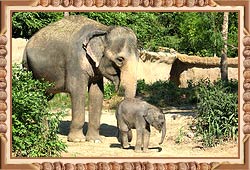 Location:
20 km from Bhubaneswar
Nandankanan National Park is a must-visit tourist attraction of Orissa. On one hand, it fulfills the criteria of being a zoological park. On the other hand, it also serves as a grand botanical garden, where one can see even the rarest species of plants. The zoological park has been demarcated from the botanical garden with a natural lake. Nandankanan Wildlife Sanctuary has been named after the 'mythical garden' of Gods, the mention of which has often been made in the Puranic literature of India.
The sanctuary has been so named because of its exquisite beauty and alluring serenity. It serves as the natural habitat of a number of animals, ranging from the rare white tigers, reptiles and snakes to distinctive kinds of birds. Even for kids, this place is very enjoyable. They can take a joy ride in the toy train that runs here. For the elders, there are boating facilities at the lake. The whole atmosphere of the Nandankanan National Park is so serene that it completely rejuvenates the mind as well as the soul.
Wildlife
Apart from the beautiful White Tigers, one can also find other wild animals in the Nandankanan Wildlife Sanctuary. These include Asiatic Lion, Lion-tailed Macaque, Nilgiri Langur, Indian Pangolin and Mouse Deer, Himalayan Black Bear, Rhesus Macaque, Black Buck, etc.
Birds
Nandan Kanan National Park is home to approximately 80 species of birds. At the same time, it also has an aviary for the aquatic birds. Some of the rare bird species that can be found here include White Peacock, Open-billed Stork, Blue & Yellow Macaw, Green-winged Macaw, etc.
Reptile Park
There is separate Reptile Park at the Nandankanan Wildlife Sanctuary. It is home to a large number of crocodiles, lizards, turtles and snakes, including three species of Indian Crocodiles. A life sized Tyrannosaurus Rex stands as a guard on the gates of this park, which is very popular amongst kids.
Botanical Garden
The Botanical Garden is situated over the Kanjia Lake and can be visited through the ropeway from the zoo. Here, one can see some of the rarest species of plants.