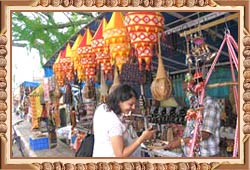 Bhubaneswar, the 'Temple City of India', is not only known for its magnificent places of worship. Rather, it is also a shopping lover's delight. You don't need to worry about 'where to shop' at all. There are innumerable shopping places in the city; of which some are run by private owners, while others are Government-owned. For those who are fond of traditional fabrics, Bhubaneshwar is just the place to shop. The city is well known for its Ikat fabrics, which are extensively used in making Saris as well as other readymade garments.
Appliqué work of Bhubaneswar, locally called Chandua, is in great demand these days. Other best buys include Tussar silk, Sambalpuri silk and Cotton. Apart from the fabrics, there is also a wide variety of metal ware available in the city. It mainly consists of exquisite pieces of jewelry made from fine silver and distinctive kinds of metal sculptures, known as Dhokra. Other interesting items available in Bhubaneshwar include handcrafted wooden items, like lampshades, vanity boxes, vegetable baskets, etc.
Even the stone sculptures of Gods and Goddesses made in the city are selling like hot cakes in the market. Bhubaneswar is also well known for its paintings. Some of the popular paintings are Patachitra, paintings made on palm leaf, and Ganjapas. One can easily find seashells in the coastal city of Bhubaneshwar. Available in different shapes and sizes, they are used on a number of items like lampshades, fruit baskets, purses, mirrors, jewelry boxes, trays, etc and are a favorite amongst tourists.