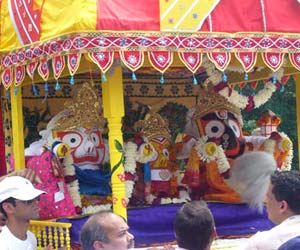 Celebrated In:
Mid-September
Celebrated At:
Murshidabad, West Bengal
Duration:
One day
West Bengal is a land of fairs and festivals. In fact, the culture of the state is characterized by the colorful celebrations that adorn it throughout the year. Almost every district of West Bengal plays host to at least one popular fair or festival in the entire year. The celebrations not only tell the tale of their rich cultural heritage, but also improve their prospects as a tourist destination. Similar is the case with Murshidabad district of West Bengal, which serves as the venue of a popular festival called Bera Utsav.
Organized in mid-September, Bera Utsav witnesses participation by people from the remotest corners of India. It falls on the last Thursday of the Bengali month of Bhadra, which is around mid-September as per the Gregorian calendar. Murshidabad, the city that plays host to the festival, is famous for its enriched heritage and legacy and holds an eminent place in the history of Bengal. The grandeur of this festival, celebrated near the historic palace of Murshidabad, reflects the rich lineage of the city.
The grand celebrations of 'Bera Utsav' are conducted at Lalbagh, on the banks of river Bhagirathi, near the palace of Nawabs. The beautiful celebration is adorned by traditional dance and music. The splendid fireworks on Bhagirathi embankment make the venue a picturesque vista that impresses the visitors no end. The festival is enjoyed by people of different age-groups, religions and cultural backgrounds. It not only tells the tale of the city's age-old splendor, but also marks the unity of its people and their love towards their cultural and traditional inheritance.