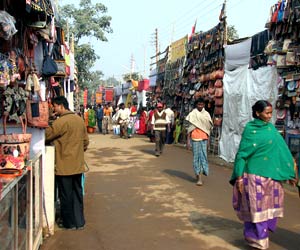 Celebrated In:
Bengali month of Poush (end-December)
Celebrated At:
Santiniketan, Birbhum district (West Bengal)
Duration:
3-4 days
West Bengal is the land of fairs and festivals. Innumerable festivals are celebrated throughout the year in the state. Apart from traditional festivals, like Durga Pooja and Diwali, harvest festivals like Jhapan and tourism festival like Teesta Tea and Tourism Festival are observed here. Another festival that Bengali people relish is the 'Cultural Festival of Poush'. It is organized over a period of 3-4 days, at Santiniketan, in the Birbhum district of West Bengal.
The rich cultural heritage of Bengal needs no introduction. It has been the motherland of many intellectuals and great artists. The arts and crafts are valued like a precious asset in Bengal. So, it is no wonder that a special festival 'Poush Mela' is celebrated here, to appreciate the rich art and culture of the state. As is evident from its very name, Poush Mela is celebrated in the Bengali month of Poush (end-December, as per the Gregorian calendar).
Santiniketan has been the home for Nobel laureate Rabindranath Tagore and also served as the mentor of many great politicians, intellectuals, musicians and artists in India. Of the many seasonal festivals celebrated at Santiniketan, Poush Mela is considered to be the most important one. It is celebrated with cultural performances, consisting of folk music & dance, folk theatre and Baul songs. The popularity of Poush Mela is not limited to Bengal; rather art-lovers from all over the globe attend this seasonal festival with great enthusiasm.