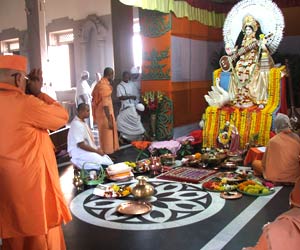 Celebrated In:
Phalgun month (January-February)
Celebrated At:
Throughout West Bengal
Duration:
One day
Maa Saraswati is the Hindu Goddess of Learning. She is worshipped in almost all the parts of the country with equal devotion. Saraswati Pooja is observed on 'Vasant Panchmi', which falls in the Phalgun month (January-February as per the Gregorian calendar). In almost all the households of West Bengal, Saraswati Pooja is celebrated with immense devotion. However, Kolkata, the cultural capital of India for long, celebrates this festival with the greatest enthusiasm. Temporary arrangements are also done for installing an idol of Goddess in a locality. Young boys and girls enthusiastically take part in this ritual.
The auspicious day of Saraswati Pooja marks the beginning of spring (Basant), after extremely chilling winter. Boys and girls dressed in traditional yellow attire worship the Goddess on his day. Not only students, but musicians and artists also seek her blessings, because Goddess Saraswati is also considered as the Goddess of arts and crafts. The pooja begins with 'Aarti' and mantrocharan (chanting). The worship of Maa Saraswati is incomplete without Palash flowers, plums, phaag and abhro (herbal powdered colors), bel leaves and white sandalwood paste.
On the day of Saraswati Pooja, all the items related to studies (like books), music (like instruments) or work (computer) are placed near her the idol of the Goddess, to seek her divine blessings. None of things placed near Ma Saraswati are used on the day of the pooja. One of the most important rituals, which are performed on day of Saraswati Puja, is 'Hatey-Khori'. This is an auspicious ceremony, where small kids are made to touch pen and ink for the first time. This marks the beginning of 'learning phase in their life'.
Though 'Hatey-Khori' can also be performed on some other day, the day of Saraswati Pooja is chosen in most of the households, as it is considered to be the most auspicious day for starting a new phase in life, with immense blessings from the Goddess of Learning. Since Goddess Saraswati is considered to be pious and full of serenity, no animal sacrifice is made to her. Strictly vegetarian diet is served to everybody on this day. A Bengali dish 'Kooler Chatni' (Plum-Jam) is especially made and served on the day.
After the puja, prasad (holy-food), including fruits and traditional sweets, is given to everyone who comes to the Goddess to seek her divine blessings. In the evening, the idol is immersed in the nearby sea, river or pond. At some places, the deity is permanently installed in the family's pooja room and worshipped with great pomp and show next year. The books, ink-pots, other stationary items and musical instruments placed near the Goddess are kept at their respective places after the puja and brought to use again. Saraswati Pooja reflects the Bengali culture of respect towards wisdom, arts and crafts.