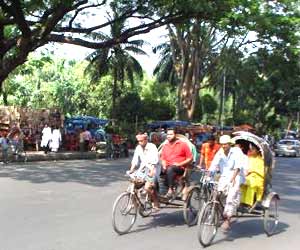 West Bengal is visited by a large number of tourists every year. While some of them have their own mode of transport, others depend on the public transportation system. In this context, we can tell you that the local transport system of West Bengal is very good. The connectivity, via road as well as rail, is smooth throughout the state. The state also boasts of having a good private transport system, via metered taxis and auto rickshaws. Kolkata, the capital city of West Bengal, also has tram and metro-railway for local access. In the hills, Darjeeling Himalayan Railway is an active mode of transportation that connects the plains of West Bengal, at New Jalpaiguri, with the hill station of Darjeeling. Let us know more about the various modes of public transportation in West Bengal.
Trains
The inter-city as well as intra-city rail network within West Bengal is good. Howrah station, Sealdah station and New Jalpaiguri station are the main railheads in the state. The stations at Darjeeling, Kharagpur, Alipurdur and Naxalbari are some other active railway stations in West Bengal. Many express trains as well as local and passengers trains run throughout the state. Then, you have the trams and Metro-rail, which run within the state capital - Kolkata.
Buses
State-transport as well as private buses are an inevitable mode of transportation in West Bengal. They run throughout the length and breadth of the state. You can use them for commuting within the city as well as from one city to another. Private buses are categorized as 'Morning to sundown buses', 'Limited stop buses', 'Specials', 'Express' and so on. The fare of this particular mode of transportation is economical and affordable.
Taxis
Metered taxis are easily available in West Bengal. They can be hired either for traveling within the city or from one city to other. If the taxi is metered, you will get to know the fare after the journey is over. However, if you hire a taxi which does not ply by the meter, make sure to enquire about the fare before boarding it and do a little bargaining as well.
Auto Rickshaws
Auto rickshaws also make up a popular mode of intra-city transportation in West Bengal. They are expensive in comparison to buses, but cheaper when compared to taxis. Even the auto-rickshaws are supposed to ply by meter and take the fare accordingly. However, if they are not ready to comply by the meter, fix the fare in advance, after bargaining a little.
Cycle Rickshaws
Cycle rickshaws are popular means of short-distance travel in small cities as well as the suburbs of major cities. The charges depend upon the distance covered and are too affordable to ask for a bargain.