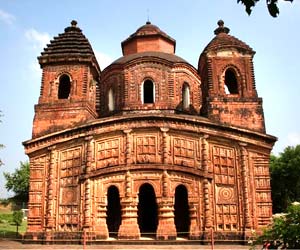 Durgapur is one of the excellent destinations in West Bengal, where you can get a taste of the industrial township. Mostly known for SAIL's Durgapur Steel Plant, the city has are a number of other attractions as well, within as well as around its vicinity. Durgapur has a surrounding that is rich, both culturally and historically. While Chittaranjan is a perfect mix of historic excellence and recreational location, Bishnupur is a paradise for those who have an eye for magnificent temples and terracotta sculptures. To get detailed information about the tourist places near Durgapur, browse through the following lines.
Excursions From Durgapur
Asansol
Located about 42 km away from Durgapur, Asansol is the second largest city in West Bengal, after the state capital, Kolkata. Just like Kolkata, Asansol boasts of being one of the culturally and ethnically diverse places in the country as a whole. There are a number of places in and around Asansol that are worth visiting. The city is accessible by both roadways and railways, from Durgapur. There are a number of recreational establishments that would surely be a great leisure past time. More
Chittaranjan
Located at an average elevation of 155 m, on the Asansol-Durgapur region, Chittaranjan is a small town in the Bardhaman District of West Bengal. The region falls between two rivers - Damodar and Ajay. Named after Indian freedom fighter, Chittaranjan Das, it was a heavily forested area until the discovery of coal, which led to the industrialization of the place. Chittaranjan poses to be a perfect getaway for tourists who are looking for excursion places near Durgapur. Right from the banks of the Ajar River that serves as a famous picnic spot to the horticulture garden, boating club and the loco park, the options are many.
Bishnupur
At a distance of about 72 km from Durgapur, Bishnupur is an ancient city, reputed for its magnificent temples and terracotta sculptures. Home to major art and craft, Vishnupur has also been credited for its Baluchari sari, which has its base well rooted in this ancient city. Initially woven with Ramayana and Mahabharata motifs, the saris have now been modernized. Panchmura, the place which produces Bankura horse - the symbol of Indian handicrafts, is also near Bishnupur and can be visited while touring the city.
Kendubillo
The birthplace of the famous Bengali Vaishnava poet Joydeb, Kendubillo is a temple town in Birbhum district of West Bengal. Also known as Joydeb-Kenduli, it is located about 22 km from Durgapur and is famous for its temples that portray exquisite carvings as well as the Makar Sakranti Fair. The place houses a navaratna temple, named Radha Vinod Temple, which was set up by the royal family of Burdawan. The temple boasts of excellent terracotta artifacts on its walls. The fair, on the other hand, is held in the first half of January and is one of the major rural fairs in West Bengal, extending for about 10 to 15 days.