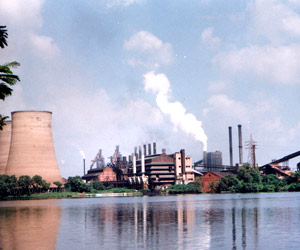 Location:
Banks of Damodar River, Durgapur
Highlights:
Played a major role in the industrial development of India
One of the integrated steel plants of SAIL or Steel Authority of India, Durgapur Steel Plant is a place of immense importance. The plant boasts of being the most significant site in the city. Situated on the banks of the Damodar River, at a distance of about 158 km from Kolkata, Durgapur Steel Plant has its geographical location as 23°27' N and 88°29' E. Though not an individual company, the plant is the largest industrial unit in West Bengal. It has played a historical part in the industrial development of India. Apart from extending quality products, the plant also works for maintaining a healthy and clean environment. There are necessary pollution control facilities installed at the plant, for maintaining a healthy environment.
History
Initiated during the 1950s, Durgapur Steel Plant changed the face of India, bringing with it a lot of technical and industrial growth for the country as a whole. The plant was set up with an initial annual capacity of one million tonnes of crude steel per year. However, as time progressed, the capacity of Durgapur Steel Plant (DSP) was later expanded to 1.6 million tonnes in the 1970s. Three decades after its commencement, a massive modernization program was undertaken, which brought a number of technological developments in the plant. The yearly capacity of the plant was also increased to 2.088 million tonnes of hot metal, 1.8 million tonnes crude steel and 1.586 million tonnes saleable steel.
Present Times
Covered under ISO 9001: 2000 quality management system, Durgapur Steel Plant today is extremely well equipped and is stuffed with all the state-of-the-art technology required for quality steel making. With modernization, the plant flaunts improved productivity, improved energy conservation and better quality products. Everything in the steel complex and mills zone, comprising its Blooming & Billet Mill, Merchant Mill, Skelp Mill, Section Mill and Wheel & Axle Plant, have been covered under ISO: 9002 quality assurance certification. The plant also boasts of up-to-date electrical and electronics laboratory, hydraulics and pneumatics laboratory and workshop, for effective training and development of its employees.
Raw Materials
Talking about raw materials, just like any other steel plant, iron ore, coal and limestone are the three most basic raw materials of Durgapur Steel Plant. The plant draws its coal from the Jharia-Raniganj coal belt, while some amount of prime coking coal, with fairly low ash content, is imported as well. The iron ore, on the other hand, is derived from the mines at Bolani, in Orissa. Lime stone comes from the Birmitrapur (Orissa), Jaisalmer (Rajasthan), and Jukehi and Nandwara (Madhya Pradesh). Durgapur Steel Plant consumes a total of about 7.4 million tonnes of different raw materials annually
The 7.4 million tonnes comprises of over 1.84 million tonnes of coal and 2.9 million tonnes of iron ore lump and fines. Besides this, the plant also requires limestone, dolomite, manganese ore, bauxite, silicomanganese, ferromanganese and ferrosilicon. Coming to handling of raw material, the plant has various facilities that improve and ensure consistency in their quality. Some of them are beneficiation/washing facilities for lump ore and fines, at Bolani; screening of lump iron ore inside the plant; selective crushing of coal at coal handling plant, base blending facilities for sinter plant and silo-cum-blending bunkers.