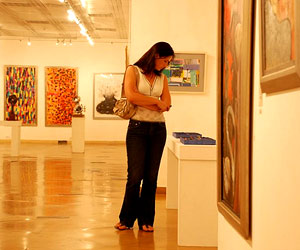 Kolkata is the land of art and culture. There are several arts and crafts in the city that are renowned throughout the world. The city of Kolkata has also gifted the world with several talented artisans. In fact, if you are really interested in arts, there would no better destination for you in India, other than the 'City of Joy' Kolkata. Thus, it is only understandable that there are several renowned and many newly emerging art galleries in the city, offering you a lot of exquisite art. In the following lines, we have provided a list of some art galleries in Calcutta that you would certainly find worth a visit.
Art Galleries in Kolkata
Aakriti Art Gallery?
12/3A, Picasso Bithi,
Hungerford Street, Central Kolkata
Chitrakoot Art Gallery?
55, Gariahat Road
Ballygunge Phanri, South Kolkata
Chemould Art Gallery?
12/F, Park Street, Kolkata
Duckback House
41, Shakespeare Sarani, Kolkata
Gallery Sanskriti
5C, Alipore Park Road, Kolkata
Janus Art Gallery?
7/4, Barickpara Road
Behala, Kolkata
Discovery Art Gallery?
46-C, Jawahar Lal Nehru Road, Kolkata
Ganges Art Gallery?
33A, Jatin Das Road,
Desopriya Park, Kalighat, Kolkata
Metal Art Gallery?
70/3, Sambhunath Pandit Street, Kolkata
Genesis Art Gallery?
8B, Middleton Street, Central Kolkata
Galleries 88?
28B, Shakespeare Sarani
Park Circus, Kolkata
Cima Art Gallery?
Sunny Towers, 43,
Ashutosh Chowdhury Avenue, South Kolkata