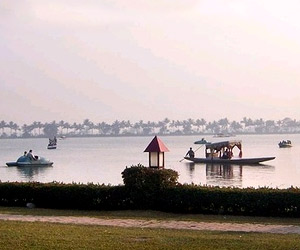 Being one of the metropolitan cities of India, Kolkata also boasts of having some cool hangout places. The youngsters in this city do not lack in options to choose from, when it comes to outing. Apart from parks and nearby cinema complexes, there are also a few exclusive places in the city, meant for hanging out with friends. Right from sitting with a cup of coffee to chilling out in a discotheque, there are options suiting every mood and budget. In case you are in Calcutta and want to party with your friends, here is a list of the famous hangout venues.
Hang Outs in Kolkata
City Center
City center is a shopper's paradise, what with the myriad brands and designer stores enthralling the area. Located in Salt Lake area, the place is always buzzing with energy. It offers a complete package, with something for everyone. Be it your mommy, your teenage sister or even your friends, there is something for everyone. The place is always bustling with vigor and intensity. Apart from the stores, City Center has a multiplex, multitude dining options and live performances as well.
Nicco Park
Do you want to bring out the kid inside you? If yes, then Nicco Park would be the best bet. One of the oldest amusement parks in the city, Nicco Park is the perfect place to have a family reunion or friends' day out. Located in Salt Lake area, the park offers numerous dry as well as water rides. The park is stretched out on a large green area and provides just the right freshness for nature lovers. And when you get tired of the rides, head straight to the lovely restaurant, which is sure to satiate your appetite with its wholesome food!
Camac Street
An imposing arcade, riveted with fine dinning and bustling discothèques, Camac Street is one of the most boisterous places in the city. Once inside the 22, Camac Street complex, you are sure to feel as if you are in another city altogether. The flamboyant architecture extends a beautiful panorama to the whole place. Whether it is shopping, clubbing, dinning or just hanging out, Camac Street should surely be on your hangout agenda
Nalban Boating Complex
Do you want a peaceful respite from the hustle-bustle of city life? If yes, then Nalban Lake should be the best place to strike. An idyllic retreat, the lake sprawls over 400 acres and offers a blissful environ. The charm and beauty of the place is absolutely spellbinding and hypnotic. Right from the fascinating paddle boats to the purely romantic shikaras, the options of boating are many. Apart from that, the cottage huts and the eating outlet are sure to make the visit an unforgettable one for you.
Park Street
Want to get a taste of a riveting night life in the city? Head straight to Park Street!! Often known as 'the street that never sleeps', it is the centerpiece of the most prolific night life of Kolkata, what with the numerous night spots being home of live music, dance and cabaret. Though renamed as Mother Teresa Sarani, it is still popularly referred to as Park Street. You would have an oasis of choices upon reaching here, right from 24-hr coffee shops to the pastry shops, fine dinning, 5-star hotels and energetic nightclubs!!