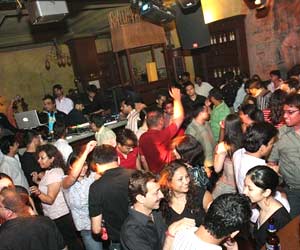 Kolkata is not limited to antique halls, ancient architectures, sightseeing, folk music and tribal dances. At night, the city takes a completely new form, with beautiful pubs, discos and hangout places. The discotheques in Kolkata stand up to metropolitan standards. There is a lot of rush at such places, comprising of mainly the youngsters. Youth from all over the city come here to chill amidst the jazzy atmosphere. Incase you are looking for some discos in Calcutta city, have a look at the list given below.
Discos in Kolkata
Equinox
Peerless Inn
12, J.N. Nehru Road, Kolkata
Primadona
The Conclave
216, A.J.C Bose Road, Kolkata
Flury's?
1/B, Park Street, Kolkata
Anticlock (HHI? - Hotel Hindustan International)
235/1, A J C Bose Road
Lala Lajpat Rai Sarani, Kolkata
Incognito (Taj Bengal Hotel)?
34b, Belvedere Road
Alipore, Kolkata
Tantra (The Park)?
17, Park Street, Central Kolkata
Cloud Nine
15, Astor Hotel, Shakespeare Sarani
Midleton Row, Kolkata
Aqua Java
Shambhunath Pandit Street
Lala Lajpat Rai Sarani, Kolkata
Venom Night Club
6, Fort Knox, 9th Floor, Camac Street
Circus Avenue, Kolkata
Kipling Klub
IB 172 Sector 3, Salt Lake City
Purba Putiary, Bidhannager IB Market, Kolkata
Dublin (ITC Sonar Bangla Sheraton Hotel and Towers)
1 J.B.S. Haldane Avenue,
Naktala, Tollygunge, Kolkata