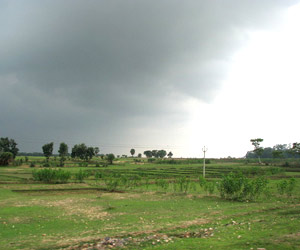 Location:
West Bengal
Altitude:
748 feet
Summer Temperature:
Max: 45°C; Min: 23°C
Winter Temperature:
Max: 20°C; Min: 3°C
Average Rainfall:
1100 mm - 1500 mm
Best Time to Visit:
October-March
Located in the central-west of West Bengal, Purulia is one of the important districts of the state. It is located just north of the Kasai River and has a town under the same name, which forms its headquarters as well. Purulia is a major road and rail junction of West Bengal and the regionís major agricultural distribution centre. Situated at 22.60 degrees and 23.50 degrees north latitudes and 85.75 degrees and 86.65 degrees east longitudes, with an average elevation of 228 meters, Purulia has hot and dry summers, pleasant and cool winters and rainy monsoons. Read on to get detailed information on the climate and weather of Purulia district.
Summers
Just like the other districts in West Bengal, Purulia also experiences three prominent seasons, of which summer is one. The summers in Purulia are extremely hot and dry. The mercury rises to a maximum of about 45°C, with the minimum being 23°C. The level of humidity in the region is somewhere between 55% and 65%. Summers usually start from March and last till the month of June. While scorching heat characterize the day time, the nights are usually warm.
Monsoon
The coming of June marks the arrival of monsoon in Purulia. The rainy season in the district is characterized by heavy rainfall, making it the extremely wet and damp time of the year. Monsoons last till about the mid of September. Though rainfall definitely lowers the temperature and provides relief from the scorching heat. Also, the level of humidity in the region increases during the wet monsoon period, being somewhere at 75% to 85%.
Winters
The winters in Purulia vary from being pleasant to cool. Starting from the middle of November, the mercury starts dropping in the region. While the maximum temperature lies somewhere around 20°C, mercury drops to about 3°C at night, making the place chilly and cold. The winter season lasts till about the mid of February and is deemed as the most favorable time for tourists and visitors, who want to explore this fine district in West Bengal. In short, Purulia experiences dry and cool winters.