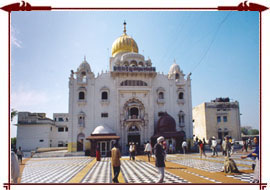 Gurdwara Bangla Sahib is situated near to Connaught Place in New Delhi. The place where the Gurdwara now stands was once a splendid bungalow of Raja Jai Singh Amber of Jaipur. Guru Sri Harkishan, the eighth guru of the Sikhs, stayed in this bungalow as guest of Raja Jai Singh. Since that time, the bungalow has assumed sanctity for both Hindus as well as Sikhs. Delhi Gurdwara Bangla Sahib, in has a quite simple and large main hall covered by a small golden dome with a sculpted bronze cupola. Throughout the day, soothing Gurbani (devotional music) echoes in the Banglasahib Gurduwara of New Delhi.
On the eastern side of the Gurdwara is the community kitchen hall, known as the "Langar". Everyday free food is served to all the devotees coming to the Gurdwara. There is a popular legend associated with the Gurudwara Banglasahib of New Delhi. It is said there was a dispute over the seat of Guru Sahib and Ram Rai, brother of Guru Harkishan, sought the help of Mughal Emperor Aurangzeb. Aurungzeb called Guru Harkishen to Delhi in order to solve the dispute. Thereafter, this marvelous bungalow was transformed into a Gurudwara and known by the name of Gurdwara Bangla Sahib. Sixth Guru Sri Hargobind Sahib also visited this Gurdwara.
The Gurdwara complex also houses a higher secondary school, Baba Baghel Singh Museum, a library and a hospital. One of the most famous and popular features of the Gurdwara is the pond inside its complex, known as the "Sarovar". The water of the pond is considered very holy and is known as "Amrit". It is believed that the water has miraculous healing powers. Most of the devotees coming to this holy shrine take holy dip in the sarovar before entering the main shrine. The main celebrations in the Delhi Bangla Sahib Gurdwara take place on the birth anniversary of Guru Sri Harkrishan Sahib and death anniversary of Maharaja Ranjit Singh Ji.