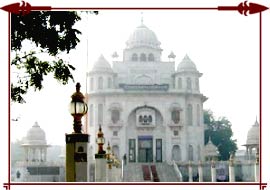 Gurdwara Rakab Ganj Sahib was constructed in the year 1732, by Lakhi Banjara, one of the followers of martyred Sikh Guru Teg Bahadur who also performed his last rites. There is an interesting legend attached to Rakaabganj Gurudwara of New Delhi. The legend has it that Lakhi ran away to his home with the body of Guruji. There, he cremated the headless body of the guru. It is said that in order to avoid suspicion, he did not make a pyre. Rather, he placed the body of the guru on a bed inside his home and then burnt the entire house.
Later, when the fire extinguished, he gathered the holy ashes and put them in an urn, which he buried on the cremation site itself. It is believed that the Rakab Ganj Gurdwara of Delhi was built on the same site where the house once stood, in the commemoration of the event. The gurdwara has been named as Rakab Ganj after the market (ganj) of stirrups (Rakab) that once stood on the area where it is now. The white exterior and impressive domes of the gurudwara make it a place worth visiting.
The magnificent Rakab Ganj Gurdwara stands on the Pant Road of New Delhi, with the Parliament House and North Block of Central Secretariat facing its front. The building stands surrounded by a beautiful, blossoming garden. There is an entrance on each of the four sides of the gurdwara, symbolizing the fact that it welcomes people of all caste or creed. It is estimated that the construction cost of the Rakab Ganj Gurdwara came to somewhere around 25 lakh rupees and it took 12 years to complete the monument.