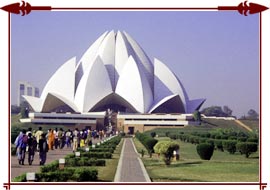 Lotus Temple is situated 12 km to the southeast of Connaught Place. Architecturally one of the most splendid temples of India, Delhi Lotus Temple is called so because it is built in the shape of a Lotus flower. The temple got completed in the year 1986 and rises to a height of more than 40 m. Located on Bahapur Hills, it is the seventh and the latest Baha'i houses of worship in the world. Bahai Temple of New Delhi is a white marble monument designed like a half-opened lotus.
Twenty-seven giant lotus petals of white marble spring out from nine pools and walkways of the temple. These walkways represent the nine unifying spiritual paths of the Baha'i faith. Exquisitely manicured lawns surround the building of the Lotus Temple. Silence is a prerequisite inside the New Delhi Lotus Temple. Also, one needs to take off the shoes while entering inside. Made up of marble, cement, sand and dolomite, this temple is often equated with the Sydney Opera House. Baha'i Temple in Delhi is often compared to the Sydney Opera House.
There is a simple, but outstanding 34.27 m high central hall in the temple where people sit and meditate. Petal alcoves of the temple are inscribed with stimulating quotes of the Baha'i sacred scriptures. Though the temple belongs to the Baha'i sect, it is open to people of each and every faith. The Baha'i religion, an independent one, places great importance on prayer and meditation as instruments for the progress of the human soul. Committed to the oneness of all religions and mankind, it traces its origins to its prophet Baha'u'llah, born in Persia in the 20th century.