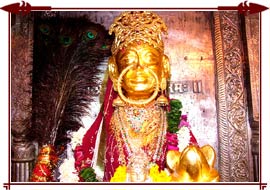 Sheetla Devi Temple is situated at Gurgaon village, a suburb of Gurgaon, in the state of Haryana. The temple, standing near a pond, is dedicated to Mata Sheetla Devi. Sheetala Mata Mandir, situated near Delhi, is at times referred to as a "Shakti Peeth" and is considered as one of the most sacred Hindu pilgrimages in India. The temple is flooded by hoards of devotees, especially during the Hindu month of Chaitra (March-April). During this period also, the rush is exceptionally heavy on Mondays.
The only exception to the rush in the temple is in the Hindu month of Shravana (July-August). Sheetla Devi Mandir is also a favored place amongst the devotees for the purpose of the "mundan" (shaving off the heads) ceremony of their children. There is an interesting legend associated with the Sheetla Devi Temple. It goes that there was a poor carpenter in Farukh Nagar, who had a daughter of marriageable age. Since she was exceptionally beautiful, a Mughal ruler sent a proposal to marry her.
The carpenter didn't want to marry his daughter out of cast, so he approached King Surajmal of Bharatpur to do something about the same. The matter was out of Surajmal's jurisdiction, thus he refused to interfere. Next he approached Prince Bharatpur, son of King Surajmal. When Surajmal refused Bharatpur also, he revolted against his father and launched an attack on Delhi. While leaving, he prayed at Sheetla Mata Mandir and pledged to build a temple if he came back victorious. He won and this was how the present temple was built.