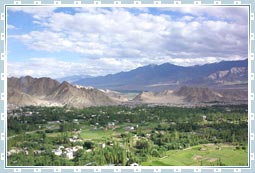 Jammu, the city of temples, is the winter capital of the state of Jammu and Kashmir. It is believed that Raja Jamboo Lochan, who reigned in 14th century BC, originally founded the city. There is a legend associated with the city. It is believed that the Raja had gone out one day for hunting. After crossing river Tawi on his way, he saw a tiger and a goat drinking water from the same pond at the same time. Impressed with this unusual and astonishing phenomenon, he decided to build a city at that particular site. He believed that in that city the strong and weak would live together in peace and harmony and no living being will carry enmity against another.
This led to the foundation of Jammu city of India on the right bank of river Tawi, overlooking the Bahu fort. At that point of time, the city was known as Jamboo, after Raja Jamboo Lochan. As the time passed, the pronunciation of the name got a little distorted and the city came to be known as Jammu. The Bahu fort, situated on the left bank of river Tawi, is quite famous for the temple of Maha Kali situated inside its complex. The temple was constructed in 1822, after the coronation of Maharaja Gulab Singh. Infact, the temple is considered as one of the most revered temples of Kali Mata in the country.
The city of Jammu is rightly known as the city of temples. Infact, Jammu has come to be known for the numerous holy places in and around the city. The temples of Jammu overshadow all of its other attraction like palaces, forts, forests, etc. On one hand is Bahu Mata (Kali Mata), the presiding deity of Jammu, while on the other hand is the Dargah of Peer Budhan Ali Shah that is revered by the people of Jammu. Then, there is the Ragunath temple complex, dedicated to Lord Rama. It is considered to be one of the most outstanding and brilliant temples in North India. The Peer Khoh (natural cave shrine) and the Ranbireshwar temple, both dedicated to Lord Shiva are the other examples of the splendid temples of Jammu. However, apart from the shrines, there are a number of other places also worth visiting in Jammu. The Bahu Fort, Mubarak Mandi Palace, Amar Palace Museum, Dogra Art Gallery, etc count amongst the other tourist attractions of the Jammu city in India.