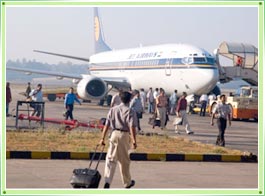 Kerala is well connected by airways. The airports of Kerala are located at strategic locations in the state. Kerala airports are easily accessible from all major towns and cities of the state. Infact, the airports in Kerala have daily international flights to major countries like Dubai, Muscat, Singapore, etc. Following are three major airports in Kerala, India.
Trivandrum International Airport
The most important airport of Kerala is the Trivandrum International Airport, which is the doorway for tourists to Kerala. It is located at a distance of 4 Kilometers (approximately) from the main city of Trivandrum (locally known as Thiruvananthapuram). All major domestic as well as international flights operate here. The foreign countries linked to Kerala directly through international flights are Kuwait, Singapore, Maldives, Colombo, Sharjah, Oman, Bahrain, Qatar, Jeddah and Dubai. Kerala is linked with the rest of the country through direct domestic flights from the Indian cities of Chennai, Delhi, Mumbai, Kochi, Kozhikode and Bangalore.
Cochin/Kochi International Airport
The Cochin airport at Ernakulam is yet another airport that caters to both domestic as well as international flights. It is relatively new airport that is built in traditional Kerala architecture but in stainless steel and glass! International flights operate from countries like Vienna, Dubai, Abu Dhabi, Muscat, Kuwait, Sharjah and Dhahran. Domestic flights operate from cities of Agatti, Bangalore, Chennai, Coimbatore, New Delhi, Goa, Hyderabad, Mumbai, Trichy, Trivandrum and Calicut.
Calicut Airport
The Calicut airport is located in the Malapurram district in Calicut. This airport caters to only domestic flights in India. The airport is located at a distance of 26 Kilometers (approximately) from the Calicut railway station. This airport has one of its kind "lead-in lighting" system. This system is designed to lead the aircraft to the proximity of threshold of the runway by a group of lights preceding one after the other thus directing the aircraft near the runway during emergencies like bad weather, emergency landing, etc.