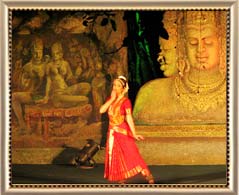 Elephanta Festival, one of the most popular festivals of the Mumbai city of India, is celebrated every year under the patronage of the Maharashtra Tourism Development Corporation (MTDC). It is organized in the month of February, with the aim of showcasing the rich culture of Maharashtra, through dance and music performances by artists from the state. Elephanta Island, sited at a distance of approximately 10 km from the Mumbai harbor, serves as the venue of the Elephanta Dance Festival.
Apart from the festival, the island is also known for housing a number of caves, adorned with Lord Shiva sculptures. These caves were earlier known as Gharapuri (meaning tranquil abode of Lord Shiva), but were later renamed by the Portuguese as Elephanta Caves. Amongst these caves, the most popular cave is the one that comprises of a shrine of Lord Shiva. The huge idol of Lord Shiva, known as Maheshmurti, enshrined in the main cave of Elephanta serves as the backdrop of the Elephanta Music Festival of Mumbai.
The colossal idol is magnificently illuminated, adding to the beauty of the performances. The festivals witnesses performances by not only the eminent personalities in the field of dance and music, but upcoming artists as well. At the same time, it also presents folk dances by the local fishermen. For the food buffs, there is no reason to worry. At the Elephanta Festival, you can have the most exotic local cuisine of Maharashtra and that too, at reasonable prices. So, next time you come to the state, time your visit in such a way that you are able to be a part of this extravaganza.