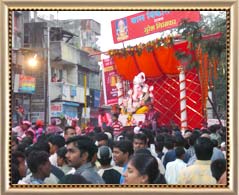 Pune Festival is organized by the Maharashtra Tourism Development Corporation (MTDC), in the city of Pune. It takes place during the time when the Ganesh Chaturthi is celebrated throughout India. The festival stretches on for a period of around one month and has the basic aim of promoting the culture of Maharashtra. One of the biggest festivals organized in the city, Pune Festival begins on the day people install the idol of Lord Ganesha in their home.
Throughout the days that follow, the whole of Pune gets immersed in the colors of festivity. The activities that form a part of the festival include displays and traditional sports competitions, film and drama shows, classical dance performances, auto rallies, musical performances, etc. Initially, Pune Festival was planned as a city-level cultural event. However, with time it has started gaining more and more recognition, especially with the involvement of national and international artists as performers.
Today, the festival has gained the distinction of being one amongst the most popular cultural events in the whole country. The laudable aspect of Pune Festival is that it is being consistently and actively promoted by the Government of India, in a large number of foreign countries. It serves as the perfect platform for the exponents of classical performing arts, to explore the rich classical dance and music of the country.
At the same time, it has helped both virtuosos and amateurs in the field, to present their talents in front of an appreciative audience. Pune Festival constantly endeavors to promote the modern trends in the performing arts of India. It also aims to promote the traditional as well as the dramatic arts of the different regions of the country. With the constant support of Government and eminent personalities, the festival will soon grow to be amongst the major attractions in India.