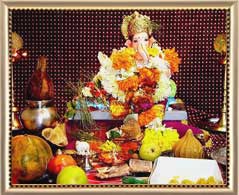 Ganesh Chaturthi is a festival that is celebrated in almost each and every household of Maharashtra. Though it is celebrated in other states of India as well, the scale of celebration in Maharashtra is simply overwhelming. Lord Ganesha is the patron deity of the state and He is believed to bestow good luck and remove the obstacles from the life of an individual. The lord is worshipped by all the Maharashtrians with great devotion and faith. Ganesh Chaturthi Festival falls in the month of August and lasts for around 10 days.
Celebrations
Ganesha Mahotsav begins with the installation of an idol of Lord Ganesha at home. Through the days that follow, the idol is worshipped daily by the family members as well as their friends, relatives and even neighbors, who come to have darshan of the Lord. On the tenth day i.e. the final, a procession of the idol is taken, right from the home to the nearest water body (sea, river, lake, etc), amidst the chanting of the phrase 'Ganapati Bappa Morya'.
Throughout the way, faithful devotees dance to the sound of drumbeats and play with dry colors, mainly red color. On this day, you can find almost all the streets in Maharashtra, which lead to some water source, full of enthusiastic people. The procession comes to an end with the immersion of the idol, again amidst the chanting of the words 'Ganapati Bappa Morya', through which people ask the Lord Ganesha to come back the next year.
Community-Level Festival
Ganesh Chaturthi is celebrated through Maharashtra, at the individual level as well as the community level. In the latter case, huge pandals (tents) are set up by an entire neighborhood and all the people get a larger than life Ganesha idol, which is worshipped by the entire community with pomp and show. On the tenth day, all the people go to the river or sea to immerse the idol. Though Ganesh Chaturthi is celebrated throughout India, the maximum fervor can be seen in Maharashtra.