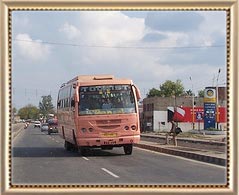 Aurangabad, the historic city of Maharashtra, is situated at a distance of approximately 400 km from its capital, Mumbai. One of the major attractions of the city comprises of the Aurangabad Caves, one of the ancient Buddhist caves in India. Apart from that, the city is also popular for being the base for visiting the amazing Buddhist Caves of Ajanta and Ellora. However, before visiting the city, you should gather information on how to reach there. This will help you in saving time as well as avoiding any unnecessary hassles while reaching there. Read on to know about traveling to Aurangabad.
By Air
Aurangabad city has its own airport, which is located at a distance of approximately 10 km from the city center. The airport is well connected with the major cities of India, like Delhi and Mumbai, by direct as well as regular flights.
By Rail
Aurangabad also has a railways station of its own, which is well linked with Mumbai and other major cities in and around Maharashtra. You can easily get direct trains from Aurangabad for most of the parts of the country.
By Road
Aurangabad has good road links with most of the cities in and around the state. Private as well as State Transport buses ply from the city, for Mumbai, Ajanta and Ellora Caves, etc. Taxis are also easily available.