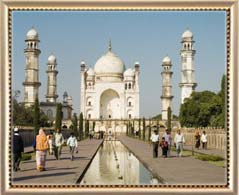 Aurangabad is a historical city, situated on the western coast of India. Though it lies in the remote corner of Maharashtra, it manages to attract a lot of tourists every year. The main attractions of the city comprise of the historical sites and religious places, situated in and around its precincts. Along with that, there are a number of lush green gardens in Aurangabad that serve as the perfect picnic spots, where one can enjoy as a family. The museums of the city serve as the perfect reservoir of its rich historical past. In this article, we have provided information on the tourist places to be covered on sightseeing tours of Aurangabad.
Aurangabad Caves
Aurangabad Caves lie nestled in a valley, between Sihyachal and Satara hill ranges. Dating back to somewhere around the 2nd - 3rd century, these caves serve as the proof of the flourishing Buddhist settlement in Maharashtra during that time.
Bibi Ka Maqbara
Bibi Ka Maqbara is a magnificent mausoleum, situated at a distance of approximately 5 km from the Aurangabad city of India. It entombs Rabia-ul-Daurani, alias Dilras Banu Begum, the wife of the Mughal Emperor Aurangzeb. The construction work on the mausoleum was started in the year 1651.
Panchakki
One of the major attractions of Aurangabad is Panchakki, which literally means 'Water Mill'. Indeed, it a mill in the city that receives water from an underground channel, with its source being 6 km away in the mountains. An artificial waterfall has been created near the mill, through which this water is discharged on to the wheel. The other attractions of Panchakki comprise of a lush green garden and a beautiful fountain. The water tanks of the fountain are filled with fish and are a hit amongst kids. Situated near the mill is the tomb of Baba Shah Muzaffar, a Sufi Saint who served as the spiritual adviser of Emperor Aurangzeb.
Jama Masjid
The Jama Masjid of Aurangabad is very popular amongst tourists. The mosque was constructed under the patronage of Emperor Aurangzeb and is located in Killa Arrack. Encircled by groves, it has a low building that stands adorned with slender minarets and a broad band. The band has been inscribed with Koranic inscriptions that have been carved through the length of the portico.
Chauk Masjid
Chauk Masjid is another splendid mosque situated in Aurangabad. It was built by Shayista Khan, the uncle of Emperor Aurangzeb, in the year 1665. This masjid has been embellished with five beautiful domes.
Lal Masjid
Lal Masjid is located in the old city area of Aurangabad. The mosque is a red-painted basalt building that dates back to the year 1655.
Museums
There are three museums in the city of Aurangabad, through which one can glimpse into its art legacy. These museums include Sunheri Mahal Museum, University Museum and Chhatrapati Shivaji Museum.