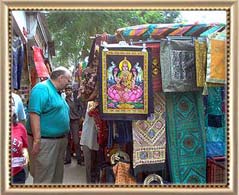 Aurangabad city is one of the popular tourist attractions in the state of Maharashtra. People from different corners of India as well as the world come here on sightseeing tours. It is obvious that they would like to have a look around the local markets and buy something for themselves as well as to take back as souvenirs. One thing we can assure you is that you wouldn't go back from Aurangabad, disappointed in this respect. There are a number of items that you can shop for in the city.
These include Himroo shawls, Mashru and Kimkhab weaves, Bidriware, etc. The Paithani sarees seen at the shopping places in the city are a hot favorite amongst women shoppers. You can also shop for jewelry and semi-precious stones in Aurangabad, especially Agate in a variety of forms and sizes. In the following lines, we have provided more information on the popular shopping items of Aurangabad.
Fabrics
The rich fabrics of Aurangabad are known throughout the country. The Paithani sarees that one can buy there are simply awesome. Apart from that, one can shop for Himru shawls, its fabric comprising of a blend of cotton and silk and giving the feel of satin. The Mashru shawls of the city are also very popular.
Silver
Aurangabad is quite known for its silver crafts, especially the Bidriware. It is basically the intricate silver inlay craft which was once patronized by the Mughal rulers of India.
Semi-precious Stones
Another popular shopping item of Aurangabad comprises of the jewelry made of semiprecious stones and decorative pieces. Amongst them, the most popular is the jewelry with Agate stones, of various shades and shapes.
Old Coins
As far as antiques are concerned, you can shop for old coins, dating back to the Mughal period, in the Aurangabad shopping places.