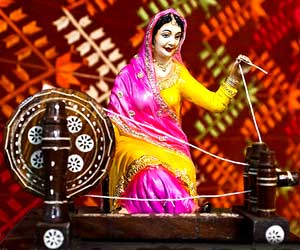 Folk toys of Punjab are the products of the perfect amalgamation of artistry and social values. The earliest handmade toys of Punjab can be traced back to the Indus Valley Civilization, from 2500 to 1700 BC. Among the most prominent toys of Indus Valley Civilization is the exceptionally large number of small terracotta carts. Chankana - a kind of whistle and Ghuggu - a kind of rattlebox are some of the other toys unearthed from the site. These toys stand for Punjabi culture and reflect the liveliness and spontaneity of the state. On one hand, they serve as the plaything for the children; while on the other, adults use them to decorate their home. The modern-day, factory-made toys are very much inspired by the folk toys of Punjab.
Folk toys are available in a variety of designs; all of them having the most desired appeal. They usually depict animals, birds, equestrian and wheeled vehicles, with variation in quality and purpose. Girls can get a good collection of kitchen toys that contain miniature versions of household items, locally called "handwai", consisting of "parat" (tray), "chulha" (oven), "handi" (kettle), "channi" (grater), "tawa" (iron plate for baking chapatis) and a "dol" (utensil for storing water). The women Punjab still make toys of cloth, stuffed with cotton. These folk toys are embellished with fancy materials like beads, buttons, feathers, tinsels, tassels and cowries.
In the past, it was a tradition among the village workers to gift a newborn infant with toys representing the trade they were into. Accordingly, a carpenter's wife would bring a miniature bedstead or a toy cart and was gifted with certain amount in return, by the infant's parents. The potter would bring a small earthen vessel or a toy in clay. The cobbler generally presented a leather necklace to the infant. The fairs like Basant Panchami, Chapper Mela, Jarag Fair, Roshni Fair, Muktsar fai etc are the places to get the best of folk toys. There are wide displays of these toys in the fairs and you can comfortably get one of your choice.
The popularity and demand of the folk toys of Punjab is gradually declining, owing to the stiff competition presented by the modern, factory-made toys. Still, you can see random instances of miniature clay dolls and kitchen utensils, roughly colored with kharia mitti and decorated with colorful designs. Some of them even form a part of religious festivities. For instance, deeva or clay lambs are made for the occasion of Diwali. Apart from them, the toys are used for play purposes as well. Traditional wooden toys are widely available in Hoshiarpur. Wood and clay tops (lattoo) are still quite popular in some areas of Punjab, such as Amritsar.