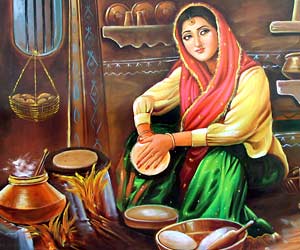 In the grand collection of Punjabi arts and crafts, one name that deserves a mention is the mural paintings and frescoes. These types of paintings are mainly done on permanent surfaces like walls, ceiling, gates etc. Punjabi people, by nature are lively and juvenile. In Punjab, you find color in everything you look for - be it their costumes, festivals, living style or arts and crafts. Punjabi people are very fond of decorating their homes and shrines. Mural paintings and frescoes are the main forms of paintings flourishing in the state. Most of the villages in Punjab have huge gates painted with the images of animals or scenes from the life of Sikh Gurus, national sports and festivals or some pictures from the battlefield. The ancient city of Amritsar, Patiala, Gurdaspur, Hoshiarpur, Kapurthala and Faridkot have grand historic buildings displaying the splendor of the rich mural paintings and frescoes of the golden days.
Paintings of Punjab

Paintings in Amritsar
Most enchanting sights of Punajbi paintings can be seen in Harmandir Sahib, Akhara Bala Nand, Tower of Baba Atal Rai and Ranjit Singh Musuem, in Amritsar. The sanctum of Harmandir Sahib has 300 stunning designs of paintings engraved in stone-inlay and mirror work, belonging to the typical Punjabi-genre. At Maharaja Ranjit Singh Musuem, the most remarkable feature is the set of ivory miniature paintings of the chiefs. Baba Atal Rai Tower has a gallery of wall paintings, stone-inlay and metalwork. A room in Akhara Bala Nand, near the Golden temple, has its walls engraved with the frescoes of religious themes.
Paintings in Patiala
Qila Mubarik Androon in Patiala is well known for its rich collection of paintings. These paintings have been designed by the great artists of Kangra and Rajasthan. They depict the themes of Ramayana, Mahabharta, Shrimad Bhagwat, Geet Govinda, Baramas and Ragas and Ragnis. The legends of Laila Majnu, Sassi Punnu and Sohni Mahiwal are also painted in one of the bedchambers. You find a splendid exhibition of mural paintings on the walls of Sheesh Mahal as well. The paintings are a translation of the poetry of Keshav Dass, Bihari Lal and Surdas. Themes from mythology, legends, Ramayana, Nayak-Nayika and Baramasa are also depicted. There is a painting of the Guru Nanak Dev sitting under the tree, flanked by Bhai Bala and Bhai Mardana. There are also representations of the Sikh royalty and aristocracy like Maharaja Ranjit Singh, Mharaja Dalip Singh and Dhian Singh Dogra.
Other Paintings
The famous Raghunath Temple in Gurdaspur, built by Maharaja Ranjit Singh, contains some of the rich fresco paintings belonging to 19th century. Thakar Dwara of Bairagas, in Hoshiarpur, is full of mural and fresco paintings depicting socio-religious themes. Themes ranging from simple daily life activities, like a lady feeding a parrot, to the religious themes are presented here candidly. Shekuhpua temple in Kapurthala, constructed by Diwan Saudagar Mal, has a small sanctum encircled by broad path that contains variety of mural paintings. Gurudwara Baba Mati Sahib in Jalandhar and Gurudwara Harshai in Faridkot consist of some of the best mural paintings.