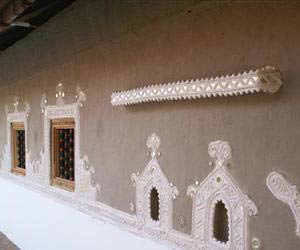 Mud work is an ancient handicraft of Punjab, which is popular in the state till date. It marks the zenith of Punjabi creativity, in turning out dull objects into masterpieces of art. Punjabis have a special art called Chowk-Poorna, which involves the plastering of the house walls with mud and then decorating them with eye-catching designs. This is basically done by members of the fairer sex, in the rural part of the state. Initially, the art form was done as a part of the superstitious belief to keep away the evil spirits. Certain symbols were also used to express boons of plenty, progeny and well-being. However, gradually, the art form began to become a part of the interior decoration of the house.
In the present times, Punjabi mud work is done during festivals like Navaratri, Karva-Chauth, Holi and Diwali. This art evolved as a source of happiness and inspiration for the poor rustic families. The colorful, attractive mud walls are a boost to their mundane life. The designs engraved on the walls have both beauty as well as a meaning hidden in them. This form of art is used by the women as a mark for worship, protection decoration and beautification. The mud work proves very economical as the requisite raw material i.e. mud can be obtained from the nearby water bodies like ponds. Besides, it lends high appeal to the decor of the room owing to its marvelous artistic presentation.
Pottery is another form of mud work that is widely practiced in Punjab. Some of the typical potteries made by the Punjabi people are vessels for storing water (surahi and ghara), dishes, jars, etc which can be bought at a reasonable rate. The shapes of the potteries are determined by their usage. These are often decorated with colorful motifs. Besides, paper mache utensils are also made by using the paste of paper and mud and used for the purpose of storing household necessities. Clay toys are also extremely popular in the state. The mud work of Punjab basically depends on individual skill and has not much formal training.