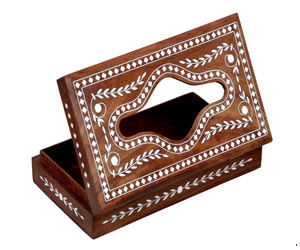 Punjab is well known for its artistic woodwork. Punjabi carpenters are highly skilled in making strong, durable and at the same time, visually attractive furniture. Their specialty lies in making a creative bed that has the back fitted with mirrors and has beautifully carved, colorful legs called pawas. Various motifs of animals, birds, natural scenery and geometrical patterns are used for carving on the pawas. Low, comfortable seats called peeras, similar to a small table, but comparatively very small in size, is unique to Punjab. Peeras are made in almost every village of Punjab.
Among the other wood works of Punjab, pidhis deserve a special mentioning. They are the small stools made of wood, which has an intricate designs made on it. They are small in comparison to chairs, just 6-10 inches in height. They are highly attractive and add to the decor of the room, apart from serving the usual purpose of seating. Pidhis are traditional and at the same time, have a modern touch. There is an enormous display splendid artistry in Punjab, made very attractive using colorful threads. Katarpur, Jalandhar and Hoshiarpur are the main centers of pidhi manufacture.
Other than pidhis, Punjab is also famous for decorative boxes, chessboards, teapots, table legs, mirror frames and toys made of wood. The carpenters of Patiala, Amritsar, Jalandhar, Bhera and Hoshiarpur are highly acclaimed for their artistic skills and you will find the best wood works available here. Woodcarving uses the skill of carving, incising, coloring and inlaying. Punjab artisans are experts in giving lacquer finish to woodcrafts, in adorning them with colored mirrors and in engraving the wood. However, the onslaught of high technology is weighing heavy on the traditional art forms. A sincere effort from government as well as the people is required to preserve this rich tradition.