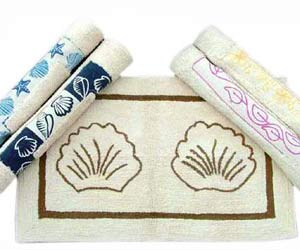 Punjab has a rich tradition of weaving and embroidery, which is very popular all over the world. Embroidery is the form of art wherein fabrics are decorated using needle and colorful thread or yarn. This has a tempting attraction owing to the different fancy materials it uses, like pearls, small mirrors, beads, quills, sequins, etc. Punjab has a distinct needlework of its own, unmatched by the embroidery of any other place – called phulkari. It is a tough job to develop such fascinating designs with all the minute details and clarity. However, the efficient beautiful fingers of Punjabi women could make it out every time, with an air of ease.
The basic characteristics of embroidery introduced in the early days are still followed today. Chain stitch, buttonhole or blanket stitch, running stitch, satin stitch, cross-stitch remain the fundamental techniques of embroidery. After the Industrial Revolution, machine embroidery has replaced hand embroidery to a large extent. Apart from embroidery, there is another art that find a place amidst the craftsmen of Punjab - weaving. Weaving and embroidery in Punjab find expression in various art forms. Some of them have been listed below:
Weaving of Durries
You find myriad motifs woven into the durries (cotton bed or floor spreads) of Punjab. The designs are varied and are skillfully made to enhance the aesthetic appeal of the durries. These are woven into stripes, check boards, suares, pictures of birds and animals and even plants.
Weaving of Phulkari and Bagh
Phulkari is an exclusive product of Punjab, which has been popular since 15th century. Here, exquisite needlework is done on the bedspreads, shawls, scarves, shirts and salwars. In this case, a deep colored base cloth is taken and then needlework is done on it. Generally, an embroidery hoop or frame is used to stretch the material, in order to prevent distortion. Silk threads of varied colors are used for the needlework. The thread is pierced upwards from underneath the cloth, into free-hand motifs. In cases where the Phulkari covers the base cloth completely, making it invisible, it is called the bagh. Bagh has more of the artistic designs woven on the clothes. Unlike Phulkari, in case of Bagh, the base cloth is worked on the top side only.
Punjabi Hand Fans & Juttis
Punjabi hand fans are very popular. They have exquisite designs and embroidery works, which add to their beauty. Also, in the Punjabi juttis you can see lots of embroidery work by the skilled hands. Use of colorful threads and the intricate patterns of the embroidery make these products extremely popular.
Weaving and embroidery is an important industry in Punjab. You can get hold of all the above articles in most of the tourist places, like Jalandar, Amritsar, Patiala, Chandigarh, Bhatinda and others. Make sure that you get some of them back home to preserve as the memory of Punjab.