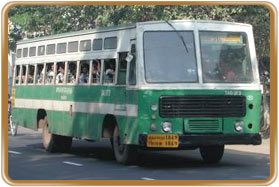 The public transport system in Tamil Nadu consists of State government buses, private buses, taxis and auto rickshaws. There are around 200 railway stations and over 100 train services connecting the state to almost all major cities of India.
Roads
Tamil Nadu has one of the largest networks of roads in India. A number of national Highways pass through the state. They link the state with other parts of the country. Besides the national highways, there are State highways and local roads that connect different parts of the state. The length of road network in Tamil Nadu is about 1.70 Lakh km.
Vehicles
Almost all types of Luxury, Semi-luxury buses and tourist taxis are easily available for hire. Taxes of other States, toll tax, parking fees, Airport entry fee, ferry Charges etc is charged extra.
Taxis
Tourist taxis are also available throughout Tamil Nadu. The tourist taxis can be hired for intra as well as inter state transportation. There are options of hiring self-driven or Chauffeur driven car.
Auto Rickshaws
For local city/town transportation auto rickshaws are easily available in almost all major towns and cities.
Local Bus Services
Tamil Nadu State Transport Corporation and Private Operators operate local bus services at regular intervals, connecting most places in Tamilnadu.
Railways
Tamil Nadu has a well-developed network of about 6,693 km and there are 690 railway stations in the state. The main Rail junctions in the State are Chennai, Madurai, Salem, Tiruchirapalli and Coimbatore.
Aviation
Tamil Nadu is well connected with other parts of India and the world by air network. Airports are located at Chennai, Madurai and Tiruchchirappalli.
Ports
Since Tamil Nadu has a long coast, the shore is lined with numerous minor and major ports. Some of the Seaports in Tamil Nadu are Chennai, Tuticorin, Cuddalore and Nagapattinam.