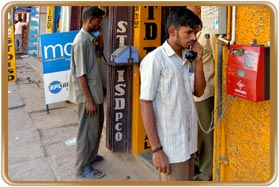 Here is a complete list of STD Codes of different cities of Tamilnadu.
STD
stands for
Subscriber Trunk Dialing
. When you are dialing from outside the district then you will have to prefix the phone number with the STD code of the district (044- 12345678 for Chennai) and in case of making calls from outside India (I
SD- International Subscriber Dialing
), then the
ISD code of India (091)
would be prefixed before the district code and the phone number (0091- 44- 12345678).
| | |
| --- | --- |
| CITIES | CODE |
| AMBASAMUDRAM | 04634 |
| ANAMALI | 04253 |
| ARAKANDANALLUR | 04153 |
| ARANTANGI | 04371 |
| ARAVAKURICHI | 04320 |
| ARIYALUR | 04329 |
| ARKONAM | 04177 |
| ARNI | 04173 |
| ARUPPUKOTTAI | 04566 |
| ATTUR | 04282 |
| AVANASHI | 04296 |
| BATLAGUNDU | 04543 |
| BHAVANI | 04256 |
| CHENGALPATTU | 04114 |
| CHENGAM | 04188 |
| CHENNAI | 044 |
| CHIDAMBARAM | 04144 |
| COIMBATORE | 0422 |
| CUDDALORE | 04142 |
| CUMBUM | 04554 |
| DENKANIKOITAH | 04347 |
| DEVAKOTTAI | 04561 |
| DHARAMPURAM | 04258 |
| DHARMAPURI | 04342 |
| DINDIGUL | 0451 |
| ERODE 0424 | 0424 |
| GINGEE | 04145 |
| GOBICHETTIPALAYAM | 04285 |
| GUDALUR | 04262 |
| GUDIYATHAM | 04171 |
| HARUR | 04346 |
| HOSUR | 04344 |
| JAYAMKONDAN | 04331 |
| KALLKURICHI | 04151 |
| KANCHIPURAM | 044 |
| KANGAYAM | 04257 |
| KARAIKAL | 04368 |
| KARAIKUDI | 04565 |
| KARUR | 04324 |
| KEERANUR | 04339 |
| KODAIKANAL | 04542 |
| KODUMUDI | 04204 |
| KOTAGIRI | 04266 |
| KOVILPATTI | 04632 |
| KRISHNAGIRI | 04343 |
| KULITHALAI | 04323 |
| KUMBAKONAM | 0435 |
| KUZHITHURAI | 04651 |
| MADURAI | 0452 |
| MADURANTGAM | 044 |
| MANAMADURAI | 04574 |
| MANAPARAI | 04332 |
| MANNARGUDI | 04367 |
| MAYILADUTJURAI | 04364 |
| METTUPALAYAM | 04254 |
| METTURDAM | 04298 |
| MUDUKULATHUR | 04576 |
| MULANUR | 04202 |
| MUSIRI | 04326 |
| NAGAPATTINAM | 04365 |
| NAGARCOIL | 04652 |
| NAMAKKAL | 04286 |
| NANGUNERI | 04635 |
| NATHAM | 04544 |

CITIES
CODE
ODDANCHATRAM
04553
OMALPUR
04290
OOTACAMUND
0423
ORATHANAD
04372
PALACODE
04348
PALANI
04545
PALLADUM
04255
PAPANASAM
04374
PARAMAKUDI
04564
PATTUKOTTAI
04373
PERAMBALUR
04328
PERUNDURAI
04294
POLLACHI
04259
POLUR
04181
PONDICHERRY
0413
PONNAMARAVATHI
04333
PUDUKKOTTAI
04322
RAJAPALAYAM
04563
RAMANATHPURAM
04567
RAMESHWARAM
04573
RANIPET
04172
RASIPURAM
04287
SALEM
0427
SANKAGIRI
04283
SANKARAN 0KOIL
4636
SATHIYAMANGALAM
04295
SIVAGANGA
04575
SRIPERUMPUDUR
04111
SRIVAIKUNDAM
04630
TENKASI
04633
THANJAVUR
04362
THENI
04546
THIRUMANGLAM
04549
THIRURAIPOONDI
04369
THURAIYURE
04327
TINDIVANAM
04147
TIRUCHENDUR
04639
TIRUCHENGODE
04288
TIRUNELVELLI
0462
TIRUPATHUR
04577
TIRUPATTUR
04179
TIRUPUR
0421
TIRUVANNAMALAI
04175
TIRUVARUR
04366
TIRUVETTIPURAM
04182
TRICHY
0431
TUTICORIN
0461
UDUMALPET
04252
ULUNDURPET
04149
USILIAMPATTI
04552
UTHANGARAI
04341
VALAPADY
04292
VALLIYOOR
04637
VANIYAMBADI
04174
VEDASANDUR
04551
VELLORE
0416
VELUR
04268
VILATHIKULAM
04638
VILLUPURAM
04146
VIRUDHACHALAM
04143
VIRUDHUNAGAR
04562
WANDIWASH
04183
YERCAUD
04281