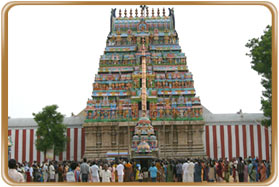 The Murugan temple at Tirupporur is one of the major temples dedicated to Lord Muruga in Tamilnadu. The Murugan temple is situated at a distance of about 45 Km from Chennai. It is an ancient temple, which was built during the reign of the Pallava rulers. The Murugan temple is associated with many legends. According to one legend, Lord Vishnu and his consort Lakshmi were subjected to the curse of saint Kanva. Lord Shiva came to Tirupporur and relieved them from this curse.
It is because of this reason the Tirupporur temple is so significant for Lord Shiva and his son Muruga, who are worshipped here. According to the Sthalapurana, Lord Muruga with his consorts Valli and Devayanai granted protection to the Gods and explained the meaning of Pranavam or reality to Agastya Muni at Tirupporur. Legend also has it that Vishnu worshipped Shiva on the Pranava Hill.
Skanda is enshrined in several forms at the Murugan temple and all the forms are related to legends from the Skanda Puranam. The most interesting of these is the depiction of Skanda as a warrior, "Samhara Subramanya". At the Murugan temple, Skanda is also enshrined in the form of a child.
How to Reach the Tirupporur Murugan Temple
Air
Nearest airport is Chennai, which operates both national and international flights.
Rail
Chennai is the nearest railway station, which is a major junction and is well connected with different parts of Tamilnadu and India.
Road
Tirupporur is accessible by road from Chennai and Chengalpattu. Private taxis and buses ply from Chennai and Chengalpattu to Tirupporur.