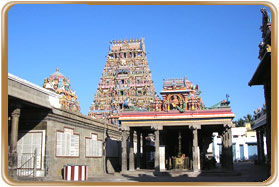 Though the smallest of all the four metros, Chennai offers umpteen places to see and fun activities to do for the travelers. This city brags of ancient monuments, beautiful temples, amazing museums, and many other things, on top of a popular beach. Chennai offers so much to see and do that you need to be clear as what all you want to see and explore.
Turn the pages of history!
Situated on the east of Raj Bhavan, the memorials of Gandhi, Rajaji, Kamaraj & Bhaktavatsalam are places worth appreciating. Then there is Vivekananda House & Museum (at Marina Beach) where photographs depicting the historical happenings related with his life and books about him and his own written works are on display. Built in 1906, National Art Gallery boasts of an ultimate collection of old paintings and sculptures including Tanjore paintings on glass, Rajput and Mughal miniature paintings, Deccan paintings from the 17th century, etc. Established in the year 1857, The Government Museum is another museum that has the country's best collection of South Indian bronzes on display. The Fort Museum, located on the northern side of the State Secretariat, also showcases a large number of colonial antiquities and paintings.
Visit religious places!
St. Mary's Church, Santhome Basilica, Velankanni Church, The Armenian Church, C.S.I. Holy Cross Church, St. Thomas Mount, St. Andrews Church, St. George's Cathedral, Descanso, etc, are some of the famous churches worth visiting in Chennai. The city has number of temples like Ashtalakshmi Temple, Devi Karumariamman Temple at Thiruverkadu; Kamatchi Amman Temple at Mangadu; Marundheeswarar Temple, Thiruvanmiyur; Sri Jaganath Temple, Kanathur; the Jain Temple in Vepery; the Murugan at Kundrathur, Thiruporur and Chrompet, etc, which are revered by devotees from ages. Built in 1795, Wallajah Mosque or Big Mosque is a historical mosque located in the north of Triplicane High Road.
Enjoy taking a stroll at one of the world's longest beaches!
Marina Beach is place you must head for if you want to behold of sight of the sun rising over the ocean. Yes, this is acclaimed to be one of the longest urban beaches in the world, and has become a favorite among the natives as well as tourists. To avoid crowds, early morning is the best time to visit Marina Beach. You can see statues of Tamil patrons and commemorative memorials at the northern end of the beach. Elliot's Beach is another treat which used to be the spot of Europeans during the Raj, near Besant Nagar in South Chennai. Though it's smaller than Marina, its popularity is no way lesser. Do try some spiced, steamed peanuts, and nicely cut kilimooku (totapuri) mango from the local vendors.
Be adventurous!
If city-life and skyscrapers sound boring to you, then visit Guindy National Park of Chennai. Spread over 595 acres, this park is home to an amazing variety of flora and fauna. Here you can spot rare Indian Antelope, Spotted Deer, White Buck, Bonnet Monkey, Small Indian Civet Cat, Jackal, etc. Crocodile Bank is an unusual reptile bank in India, sited 40 km south of Chennai. It has got the largest collection of endangered Indian Crocodiles.
Explore the heritage!
Mamallapuram, or Mahabalipuram, is the UNESCO World Heritage site where sheer rock-cut work can be seen in the temples' architecture. These rock-cut temples are considered one of the most outstanding examples of Dravidian Architecture. The drive to Mammallapuram is most charming. The Shore Temple is the most famous or you can say, it's the signature symbol of Mahabalipuram. Also check out the Arjuna's Penance, which is known to be the world's largest bas-relief panel with over a hundred figures of gods, men and beasts.
Get artistic!
About 15 kms from Chennai on East Coast Road, there is a village called Cholamandal Artists' Village. This village was established in 1965 by painter K.C.S. Panikker and other artists. Here you can check out the permanent art gallery. Dakshina Chitra is another good place where you can see the authentic representation of architectural and cultural traditions of 18th and 19th century South India. Check out the museum to live through the ages.