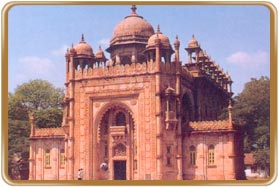 Chennai, the capital of Tamilnadu has a very vibrant history. Therefore it is not surprising that the city is dotted with tour attractions. The city offers an amalgam of traditional and modern attractions. All of them are distinct in themselves. Here we list a few:
Fort St. George
Fort St. George was the first bastion of the British in India. Built in 1640, the fort stills retains its large walls, massive wrought iron gates and deep moats. Now, this place acts as the seat of the State Legislative Assembly. The Fort Museum, St. Mary's church, Town Hall, The flagstaff are things worth appreciating within this fort.
Valluvar Kottam
The Valluvar Kottam was built to honor the acclaimed Tamil Poet, Thiruvalluvar, whose classic works are about 2000 years old. Constructed in 1976, Valluvar Kottam replicates ancient Tamil architecture that has as many as 1330 Kural (verses) inscribed on its panels.
Birla Planetarium
Part of the Periyar Science and Technology Centre at Kotturpuram, this is a voyage of discovery for both the young and the old. This air-conditioned modern planetarium with a seating capacity of 236 brings to life celestial phenomenons that are replete with special effects. It also conducts courses in astronomy and night-sky observations for public on every second Saturday of the month.
Government Museum
The Government Museum is worth visiting in Chennai. The museum has a marvelous archaeological section that is classified along major South Indian dynasties namely Chola, Vijaynagara, Hoysala and Chalukya. The bronze gallery has a superb collection of Chola Art. You can also visit the National Art Gallery that is situated in its vicinity. The place boasts off some of the most fascinating array of Mughal, Rajasthani and Deccan artworks.
Kalakshetra
Rukmini Devi founded this center of excellence for dance, music, and craft in the year 1936. Situated at Thiruvanmiyur, Kalakshetra has produced many fine exponents of the Bharatnatyam and other Carnatic dance tradition. It follows the traditional Gurukul system of education, where students from across the globe study art amidst the fresh air, large trees and the chirping of birds.
Lalit Kala Akademi
The South Indian center of Lalit Kala Akademi is located on Gream's Road. Among other things, the place has a very decent collection of Paintings and Artifacts produced by the local artists. Equal importance has also been given to the collection of literature, especially the vernacular ones.
Theosophical Society
Founded by Madame H.P. Blavatsky and Col. H.S. Olcott in 1875, Theosophical society is located on a vast expanse of clearing on the banks of the Adyar estuary. The place provides a retreat from the madding crowd. The Adyar Banyan tree, Library and Theosophical Research centers are some of the things worth seeing.