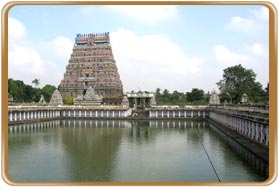 The Chidambaram temple houses the Nataraja (Shiva in Ananda Tandava pose; the Cosmic Dance of bliss) statue. It is of great religious, historical and cultural significance. Chidambaram is one of the foremost Shaivite shrines in India. It is interesting to note that the word "Koyil" or temple in the Tamil Shaivite tradition refers to Chidambaram, where Natarajar is enshrined in the Ananda Tandavam (Dance of Bliss) pose.
Chidambaram is one of the Panchabhoota signifying the 5 elements of wind water, fire, earth and space. The famous Tamil poets like Sambandar, Appar, Sundarar as well as Manikkavacakar have sung verses in praise of Chidambaram temple. Besides the above-mentioned poets, there are many other literary works that praise the glory of Chidambaram.
The origin of the Chidambaram temple is shrouded in mystery. There are many legends associated with the Chidambaram temple. The legend of Adi Shesha has it that aroused with irrepressible desire to witness Shiva's dance in person at Chidambaram, Seshan descended to the earth as Patanjali. There is yet another legend associated with the Chidambaram temple. It commemorates the dance duel between Shiva and Kali. This legend has been portrayed in the Nritta Sabha, one of the halls within the Chidambaram temple. Another recent legend associated with the Chidambaram temple goes like this- the sacred Tamil works of the Nayanmaars (Shaivite Saints) had been missing for several years and were later found in a dilapidated state in one of the of the Chidambaram temple.
How to Reach the Chidambaram Temple
Rail
Chidambaram is well connected by rail to important towns and cities of Tamilnadu. Chidambaram can be reached from Chennai (235 Km) in approximately six hours, from Kumbakonam in two hours and from Tanjore in four hours.
Road
Chidambaram is reachable by bus from almost anywhere in Tamil Nadu and other adjoining states.
Air
The nearest airport is Trichy at a distance of about 160 Km.