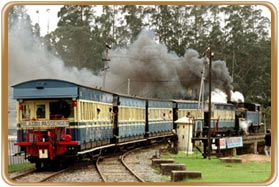 Chidambaram is well connected with the major cities of Tamilnadu. You can avail of all the modes of transportation be it by air, rail or road to access the region, however reaching to the ground zero you should be prepared for some break journeys and that can itself be equally fulfilling and worth cherishing.
By Air
Chidambaram has the nearest airports in Tiruchirapalli (195 km) and Chennai (245 km). From Tiruchirapalli, you can board Indian Airlines flights to Chennai (Madras), which is connected to all the major cities in India and abroad.
By Rail
Chidambaram lies on the Madras-Tiruchirapalli main line of the Southern Railway. It is connected with Tiruchirapalli, Madras, Madurai (335 km), Rameshwaram (575 km), Bangalore (340 km), and Tirupati (290 km).
By Road
You can go for bus services, which are frequently available to various places in Tamilnadu, Andhra Pradesh, Karnataka, and Pondicherry states from Chidambaram. There are non-stop bus services and express bus services to major cities like Chennai.
Local Transport
Taxis and auto rickshaws are available without meter for local transportation. Buses and cycle rickshaws are also available here. A ride on bullock carts is a specialty.