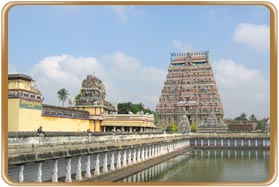 Chidambaram is among the most venerated towns in the Southern India. The sacred city has some of the finest of the architectural marvels that its famous temples reflect. Among the most widely visited pilgrimage spots is the
Natraja Temple
that sprawls in an area of 40 acres in the heart of the city with the presiding deity being Lord Natraja. Chidambaram has also
Sivakamiamman Temple, Kali Temple
, which are thronged by the devotees all the year round. The city is home to
Annamalai University
, a revered center for Tamil learning and culture.
Must Visits in Chidambaram
The Nataraja Temple
With its ideal location in the heart of the city the Nataraja Temple spreads over an area of 40 acres. It is one of the oldest temples of Tamilnadu. The roof of the temple is coated with mesmerizing gold plates. The presiding deity of the temple is represented by air, one of the five elements of the universe and is known as "Akasa Lingam".
The Eastern tower of the temple outreaches a majestic height of 40.8 meters. Both the eastern and western towers are engraved with 108 captivating Bharatha Natyam dance gestures hypnotizes the visitors. The Northern tower rises to a height of 42.4 meters.
The Sivakamiamman Temple
It has Sivaganga tank, which has the thousand-pillar hall as one of the major features of the temple.
Kali Temple
The northern end of the sacred city has Thillaikaliamman temple, another of the medieval architectural marvel and greatly flocked pilgrim spots. Kopperunjingan, who ruled between 1229 AD and 1278 AD, built the temple.
Annamalai University
A hot center of Tamil learning, Annamalai University is a residential University founded by the Raja Sir Annamalai Chettiar. The university is also great centre of Carnatic music and offers educational facilities in various disciplines including Medicine, Agriculture and Engineering.