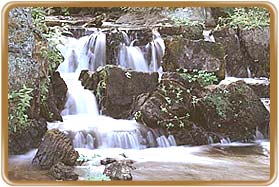 Coimbatore offers a host of exciting getaway destinations. The exotic and calm environment, lovely locales and rich fauna enthrall innumerable tourists. Some of these exciting travel places are Siruvani Waterfalls, an enchanting site located 37 km to the west of Coimbatore. The Annamalai Wildlife Sanctuary situated about 90 kms away from Coimbatore has a wide variety of animals and birds. The Thirumoorthy Temple is considered one of the most sacred temples here. It is situated at the foot of Thirumoorthy Hills adjacent to the Thirumoorthy Dam. Bhavani known for the Sangameshwarar temple is around 121 kms away from Coimbatore. This is situated at the convergence of the rivers Bhavani and Cauvery.
Anamalai Wildlife Sanctuary
Situated at an altitude of 1,400 mts in the Western Ghats near Pollachi (about 90 Kms from Coimbatore), the sanctuary sprawls over 958 sq. kms a verdant home to a multifarious species of fauna. Enjoy your adventure filled excursion here and witness the wild at leisure which includes, elephant, gaur, tiger, panther, sloth bear, deer, wild bear, wild dog, pangolin, civet cat and birds like rocket tailed drongl, red whiskered bulbul, black headed oriole, etc. The Amaravathy reservoir in the Anamalais has a large number of crocodiles. There are also many places of scenic beauty such as Karaishola, Anaikunthi shola, grass hills, waterfalls, groves, teak forests, estates, dams and reservoirs.
Topslip
It is a picturesque locale in the Annamalai Hills. It is about 37 kms from Pollachi. This small town is an ideal picnic spot with an idyllic setup to invoke the poet in you.
Thirumoorthy Temple
It is situated at the foot of Thirumoorthy Hills adjoining the Thirumoorthy dam, about 20 Kms from Udumalpet on the Highway from Palani to Coimbatore. A perennial stream flows by the side of the Sri Amalingeswarar temple and nearby there is a waterfall. The crocodile Farm at Amaravathi Dam is just 25 Kms from here. This place is being developed as a District Excursion Centre. Regular buses are available from Udumalpet.
Siruvani waterfalls and Dam
The waterfalls and the dam are located at a distance of 37 Kms west of the city. Well known for its tasty water, siruvani has a panoramic view of the dam with strikingly enchanting falls.
Parambikulam - Aliyar Multipurpose Project
An outstanding example of engineering skill, the project is located in Annamalai range, consisting of a series of dams interconnected by tunnels and canals for harnessing the Parambikulam, Aliyar, Nirar, Sholiyar, Thunakadavu, Thekkadi and Palar rivers, lying at various elevations, for irrigation and power generation.
Erode
Headquarters of Periyar District, Erode is the birthplace of periyar E.V. Ramaswamy affectionately called Thanthai Periyar by the people of Tamil Nadu. There are two ancient temples - one dedicated to Lord Siva and other to Lord Vishnu, each carved with some interesting inscriptions. Famous for handloom, Erode is about 92 Kms from Coimbatore.
Bannari
Located 83 kms from Coimbatore and 10 Kms from Bhavanisagar has the famous Mariamman temple, which attracts thousands of Pilgrims.
Chennimalai
It is important Handloom Weaving centre, 30 Kms from Erode and 80 Kms from Coimbatore.
Kodumudi
It is 40 kms from Erode and 105 Kms from Coimbatore. A special feature of this place is the shrines of Siva, Vishnu and Brahma are located in one temple complex.