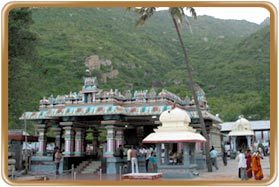 Coimbatore is snuggled in the proximity of Western Ghats and bestowed with a pleasant climate throughout the year. As one of the interesting tourist spots of South India, Coimbatore is rich in flora and fauna. Coimbatore's landscape is marked with glorious temples and is one of the loved places by tourists.
Coimbatore offers many travel attractions, which pull tourists in good number. One of the hot attractions is the
Coimbatore Agriculture University
, a must visit. Coimbatore is a home to some of the fascinating temples known for their art and architecture. The magnanimous
Perur Temple
is one of seven Kongu Sivalayam. The
Marudhamalai Temple
is dedicated to Lord Subramanya. Coimbatore has also one of the oldest educational institutes of India -
Forest College
. Other travel attractions at Coimbatore are the Black Thunder, the Vaideki Water Falls, the
VOC Park
and Zoo, an amusement park.
Places of interest
Perur Temple
Those in love with ancient art and architecture may well visit the Perur Temple. Built by Karikala Cholan, this temple is situated 7 Kms west of Coimbatore near river Noyyal. It is dedicated to Lord Siva. The presiding deity of the temple is known as Patteeswarar and His Consort, Pachai Nayaki. The exquisite sculptures in the hall , Kanagasabi, attract on e and all. It is also known as Mel Chidambaram.
Maruthamalai Temple
Dedicated to Lord Murugan, the presiding deity is known as Dandayuthapani. This temple located on a hillock is 12 Kms from Coimbatore Railway Station and Bus Stand.
Agriculture University
About 5 Kms from the Coimbatore Railway Station, this is the sixteenth Farm University in independent India. Though it came into existence on June 1, 1971 its ancestry is much older than that of the earliest started Agricultural University in the country.
Forest College
One of the oldest institutions of its kind in India, the Forest College is situated 3.5 Kms north of the Railway Station. The College Museum is worth a visit.
Black Thunder
It is Asia's number one theme park based at the foothills of gigantic Nilgiris. The Water park spread over 65 acres at Mettupalayam has a number of thrilling water games and land games.
The VOC Park
Dedicated to the memory of the freedom fighter VO Chidambaram VOC Park has mini zoo, children train and gardens with the replicas of pre-historic dinosaurs.