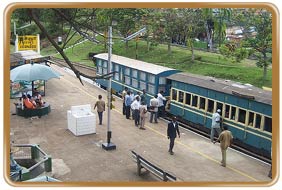 Salem is Tamilnadu's fourth biggest city and a hub of textile industry. The city is also famous for stainless steel. As a sizeable commercial place, Salem is well connected to major cities of India by air, rail and road.
By Air
Salem is well connected by air to Coimbatore, Bangalore, Chennai, Tiruchi, Madurai and Mumbai.
By Rail/Train
Salem is well connected to other important towns/cities of Tamilnadu as well as India by a good network of Railways. There are regular train services from Salem to Chennai, Bangalore, Mumbai, New Delhi and other cities.
By Road
Salem has three important National Highways (NH7, NH47 and NH68) through the city. As a major transit point for Bangalore/Coimbatore/Madurai/Chennai Salem has the 6/4-lane bypass road within the city that is busy round the clock. The Dr MGR Central Integrated Bus Terminus located in Meyyanur area. One can get buses for almost all the places of the state and Bangalore/Pondicherry anytime from the terminus.