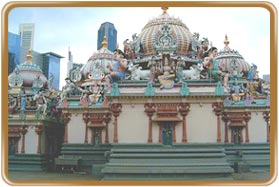 Salem is situated in the heart of Tamilnadu. The city owes its name to the mountains that surround it. Lying at the base of Yercuda Hills, Salem has rich natural beauty for the tourists to enjoy their vacations. Some of the prime tourist attractions are as below:
Tharamangalam
Located at a distance of 27kms from Salem Tharamangalam is famous for Kailasanathar Temple. Housing beautiful statues and stone carvings, the temple walls and its granite roofs has figures of tortoise, fish, monkey, crocodile carved out. There are also statues of Rathi - Manmatha, Vali- Sukrive of the epic Ramayana and Yali with rotating stone ball in its mouth. There is a rotating lotus flower in the ceiling which is just one of the beautiful futures that adorn the Temple.
Mettur Dam
This is a major dam built across the river cauvery. Besides providing irrigation facilities to Erode, Trichy and Thanjavur Districts, Mettur dam also serves as a picnic spot. There is a beautiful park opposite to dam formed with Lawns, Parks and children play materials.
Mariamman Temples
Salem is home to several Mariamman temples. Mariamman, which is a Hindu goddess, an incarnation of Shakti, is celebrated with great religious fervor every year around July in the form of Mariamman festival for a fortnight. During this period you could witness devotees walking on fire chanting their prayers. This is the best time to visit Salem City. The festival is celebrated at temples, at Fort, Shevapet, Ammapet, Gugai, Andheripati etc., Shevapet Mariamman temple car is the biggest one among the cars of Amman temples across the state.
Kandashramam
Situated at 10 kms from Salem city Kandashramam is small hill temple dedicated to Lord Muruga.
Sitthar Koil
Salem is also home to the heritage temple of Sitthar Koil, which is located about 10 km from the city. It is a Shiva Temple based on the foot hills of Kanja Malai.
Aragalur
Situated approximately 21 km from Attur, Aragalur has 2 old temples and a large Buddha statue. It holds a one-day Temple Car festival in summer inviting a host of devotees in the region.