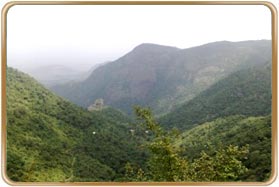 Min Temperature:
28°C (Summer), 18°C (Winter)
Max Temperature:
35°C (Summer), 25°C (Winter)
Best Time to Visit:
November to March
Salem is one of the most interesting places in Tamil Nadu. The city is located in the heart of the state making it an easily accessible location from all the parts of the state and the country at large. The Yercaud Hills that envelop Salem add to the charm and beauty of the place making it one of the must see destinations. Talking about the weather in Salem, the place extends a favorable weather all through the year. This is mainly because it is surrounded by hills on all sides, which is why Salem can be visited any time of the year.
During summers, which start mainly from the month of April, mercury rises to a maximum of 35°C. At night, temperature lowers down but not much as the minimum temperature is somewhere between 28 to 30 degrees. Monsoon steps in with the arrival of July and remains till October. The downpour then gives way to the cold and chilly season. During winters, Salem has a maximum temperature of 25°C, while the minimum temperature is at about 20°C. This time of the year is most favorable, as the climatic conditions are pleasant and cool.