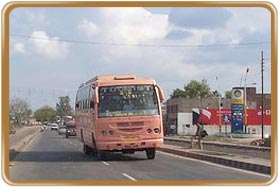 By Bus
Trichy is well connected to various parts of Tamilnadu through public bus services operated by Tamilnadu Transport Corporation. Trichy is also well connected to the other cities of Tamilnadu, southern Karnataka and Kerala through private charter buses. There are long distance operators too that ply buses to route connecting Trichy to Chennai, Madurai, Coimbatore, Bangalore, Thiruvananthapuram and Tirupathi.
By Rail/Train
Trichy is a railway division therefore it is an important breakpoint of The Southern Railway. It connects Tamilnadu to various parts of India including regions in Kerala, Andhra Pradesh, Bengal, Maharastra, Karnataka, Delhi and Madhya Pradesh. Trichy Railway Junction has five branches leading to Madurai, Rameswaram, Erode, Tanjore and Chennai.
By Air
Trichy has an international airport that operates flights to other Indian cities as well as cities of the neighboring countries such as Sri Lanka, Singapore and Maldives. Nowadays, flights are operated to Gulf cities such as Sharjah, Fujairah, Dubai, Ras al-Khaimah, Manama, Muscat, Riyadh, Damman and Kuwait.