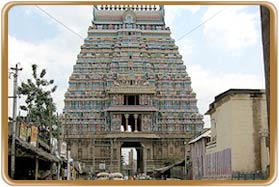 Trichy has a very vibrant past. The city is said to be around 2500 years old. Cholas, Pallavas, Nayaks and Marathas have ruled the city of Trichy during the course of history. Nearly all of them have contributed to the vibrant and colorful heritage of the city. The place was later rules by British and the influence of the same can be seen on the modern establishments in the city. All of them have left something or other for us to see and appreciate. Here we name a few: -
The Rock Fort
Temple The Rock Fort Temple is the landmark to the city of Trichy. The fort is situated on the banks of river Kaveri. The Rock Fort is located on a massive rocky outcrop that suddenly spurts amidst flat land. The temple that is located 300 feet above the sea level is dedicated to Lord Shiva. The gigantic temple has a 100-pillar hall and a Vimana covered with gold. On the southern face of the rock, there are several beautifully carved rock-cut cave temples of the Pallava period.
Sri Rangnathaswamy Temple
The Sri Ranganathaswamy Temple at Srirangam is situated 6 kilometers from the downtown Trichy. The temple is one of the most revered shrines that are dedicated to Lord Vishnu in India. It is the largest temple in the world after the famous Angkor Vat in Cambodia. Shrouded in a haze of coconut palms away to the north, the temple is built on an island in the middle of the Kaveri. The temple complex comprises seven rectangular-walled courtyards and as many as 21 Gopurams. The temple contains some of the best rock carvings in India.
Jambukeshwara Temple
The Jambukeshwara Temple that is situated just 2 kilometers from the famous Srirangam temple is dedicated to Lord Shiva. The temple complex comprises 5 concentric walls and seven Gopurams. The principal deity is the Shiva lingam, almost submerged in water, which flows from the subterranean spring that lies near the main sanctum.
Mariamman Temple
The Mariamman Temple is located just 10 kilometers from the downtown Trichy. Mariamman is one of the most popular and most visited temples in the Peninsular India. The temple is dedicated to Mariamman, a manifestation of the primeval energy 'Shakti' as the mother Goddess. Local beliefs associate the deity with cures for diseases such as small pox and chicken pox.
Samayapuram
Samayapuram was a provincial capital of the Vijayanagar rulers that is located in the vicinity of Tiruchirapalli. It was also known as Vikramapuram.
Other temples in and around the city include Vayalur Subramniya Temple, Anbil, Appakudathan and Thiruvallarai Vishnu Temples, Uraiyur Nachiyaar Temple, Uraiyur Vekkali Amman Temple, Thiruppaigeeli Siva Temple, Gunaseelam Vishnu Temple and Thirupparaithurai Shiva temple.
Apart from that the city boasts off St. Joseph's Church that is situated within the St. Joseph College Campus. This Portuguese-British Church has got some of the best glass-paintings in India. The architecture of this Church is unique because of the fusion elements involved in it.