| | |
| --- | --- |
| | Given here is information on what clothes to wear in India and how to dress up in India. Check out Indian clothing. |
What to Wear in India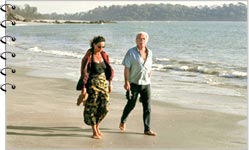 While in India, carry basic clothing with yourself. However don't pack so much that you find it difficult to handle your own baggage. Indian clothing pattern changes according to the seasons. You will find many varieties of clothes to wear in India while traveling and shopping. There is no such definite answer to the question of how to dress up in India because we don't adhere to any dress code as such. However, India still sticks to tradition and some heads turn if you dress up provocatively in public. Also, you might invite unwanted attention from certain men who stare and pass comments at women to amuse themselves. Read on further to know what to wear in India.
First check the season you are traveling in. Is it summer or winter? Both the weather conditions can reach extremes so it is better that you pack according to the season.
If you are traveling in summers, pack light cotton clothes. Do not wear synthetic as you may develop some skin allergy or heat burns.
If you are traveling in winters, pack some warm clothes, as it can get mercilessly chilly in the northern parts of India.
Take your basic jeans and some full-sleeved shirts and tee shirts for comfortable traveling. Full-sleeved clothes are ideal protection against sun tan during the day and mosquito bites at night.
Carry good sturdy shoes with you since your feet will be dusty and dirty while traveling. It is best to avoid dangerously high heels and flat sandals will do just fine.
For women, there are no restrictions on wearing jeans, trousers and long skirts. You would want to avoid shorts, tank tops and exposing vests while in India as it may hurt some Indian sensibilities. Sleeveless shirts, if decent can be worn without any problems. It is advisable to carry a light stole or scarf with you to cover your head in case it gets too hot. Some religious places also require you to cover your head, so it may come handy then.
Look around you and observe how people dress up in India. You can always pick some tips from the trendy yet decent youngsters.
In case you want a different style and dress up in the Indian way, opt for knee length "kurtas" that can be worn with jeans or cotton pants called "pajama". The traditional Indian attire for women that looks like a kurta pajama is called "salwar kameez" and is easily available in many garment stores.

Taj Mahal Tour

Rajasthan Tours

Kerala Tours

Kashmir Tours

Tamilnadu Tours

Adventure Tours India

Beach Tours India

Desert Tours India

Pilgrimage Tours India

Ayurveda Tours India

Buddhist Tours India

Temple Tours India

Sculpture Tours India

Golden Triangle Tour

India Heritage Tours

Hill Tours India

Honeymoon Tours India

Kerala Backwaters Tour

India Train Tours

Trekking Tours India

India Wildlife Tours

Karnataka Tour

Nepal Tour

Orissa Tour

Gujarat Tour

Andhra Pradesh Tour

Maharashtra Tour

Chardham Tour

Golden Chariot

Himachal Pradesh Tour

Sikkim Tour

Madhya Pradesh Tour