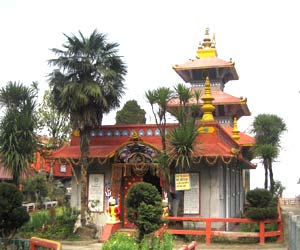 Darjeeling is a beautiful hill-station, situated in the Shivalik Hills of the Himalayas, in West Bengal. It is a picturesque hilltop, with unscathed beauty and interesting tourist spots to boast of. It is internationally renowned for its tea industry and Darjeeling Himalayan Railway (nicknamed Toy Train), a UNESCO World Heritage Site. Apart from scenic grandeur, Darjeeling also offers spots considered a trekker's paradise. Nestled amidst the rolling mountains, this place offers a perfect getaway for those seeking a rendezvous with nature. The salubrious climate and serene atmosphere of Darjeeling are some others reasons the tourists instantly fall in love with this place.
Darjeeling was once a part of Sikkim. It was then lost to Bhutan, regained from it and then again lost, this time to Nepal, in 18th century. However, during the Anglo-Nepalese war, Nepal lost the hill resort to the East India Company. The British then developed Darjeeling as a major hill resort, to provide them a getaway from the scorching heat of surrounding plains. Darjeeling also became a frontier town in British India, because of its strategic location and contemporary political situations. Later, at the time of Indian Independence, Darjeeling was merged with the state of West Bengal.
The cultural diversity of Darjeeling also makes it an interesting tourist spot. Apart from the indigenous ethnic crowd of the Lepchas, Bhutias, Sherpas, Rais, Yamloos, Damais, Kamais, Newars and Limbus, other communities like the Bengalis, Marwaris, Anglo-Indian, Chinese, Biharis and Tibetans can also be seen here. Hinduism and Buddhism are the two widely followed religions here, while Christians and Muslims form the minority group. English, Nepali, Hindi, Tibetan and Bengali are the languages, which are prominently used here. Darjeeling is also famous for its British-style public schools, which attract students from many parts of India and even abroad.
Once you have landed in Darjeeling, you must try the local market and taste the delicious cuisines of the place. Apart from Darjeeling Tea, you must buy the curio items pertaining to Tibetan and Himalayan cultures, such as thangkas, miniature monasteries and garments made from yak wool. Other than these, the beautiful portraits of Himalayas available here should be on your must buy list. After you are done with your shopping, do not forget to taste the yummy 'Momos', savor a hot cup of Darjeeling Tea and drink 'Thentuk', the hearty Tibetan soup. If you are in love with nature, diverse culture and adventure, Darjeeling is certainly going to captivate you with its charm.
Buddhist Monasteries
The city of Darjeeling boasts of an interesting cultural and religious diversity. People of several religions and cultures live here in peace and harmony. After Hinduism, Buddhism is the religion most popularly followed here. The architecture, culture, cuisines, costumes of Darjeeling reflects Buddhist influence to quite an extent. Darjeeling has a long association with this religion and this is evident in the large number of Buddhist monasteries established there.
Tea Gardens In Darjeeling
Darjeeling tea is internationally renowned for its floral fragrance, astringent features and musky spiciness. It is considered to be the one of finest qualities of black tea grown anywhere in the world. Unlike other Indian teas, which are produced mainly from the large-sized Assamese leaves, Darjeeling tea is processed from the small-leaved Chinese variety of 'Camellia Sinensis' plant. Just as authority of Champagne production solely lies with the Champagne district of France,
Dhirdham Temple
The beautiful city of Darjeeling is also known for its cultural diversity. People of almost all religions live here, amidst peace and harmony. Hinduism is the most popularly followed religion, followed by Buddhism. The hill resort is full of several Buddhist monasteries and Hindu shrines. Dhirdham Temple is one of the most popular Hindu temples in Darjeeling.
Darjeeling Excursions
Darjeeling is an extremely beautiful city in itself, offering excellent scenic vistas of mountains, valleys, springs, lakes and colorful flora-fauna. The surroundings of the hill resort are also equally enchanting, refreshing and interesting. Rich in exotic varieties of plants, birds and animals, the excursions around Darjeeling include a lot of beautiful forests and wildlife sanctuaries. Small, beautiful hamlets around the hill resort, like Kalimpong and Kurseong, also enhance its importance as a tourist venue. In the following lines,
Padmaja Naidu Himalayan Zoological Park
Located below Himalayan Mountaineering Institute, on the slopes of Jawahar Parbhat, Padmaja Naidu Himalayan Zoological Park of Darjeeling is a 'one of its kinds' park in the entire West Bengal. It is situated at an elevation of 2133.5 meter and spread over an area of 44 hectares. Established on August 14, 1958, this zoo is one of the major tourist attractions in Darjeeling. It attracts more than 300,000 visitors every year. Popularly known as Darjeeling Zoo,
Himalayan Mountaineering Institute
Himalayan Mountaineering Institute (HMI) was established in Darjeeling, as a step to organize the growing craze in the filed of mountaineering, after the ascent of Tenzing Norgay on Mt. Everest. This institute was founded in 1954, at the personal initiative of Pt Jawahar Lal Nehru, the first Prime Minister of India. Tthe institute was initially located at Roy Villa, on Lebong Cart Road. It was shifted to current location, on the western spur of Jawahar Parbat, in 1958 and today,
How to Reach Darjeeling
Darjeeling is a beautiful hill station located on the eastern Himalayas, in the Indian state of West Bengal. It is known for its five T's - tourism sector, tea gardens, trekking spots, teak forests, toy train and Tiger hill. Other than scenic grandeur, salubrious climate and enchanting tourist spots, traveling to Darjeeling also offers you a rendezvous with the cultural diversity of India.
Kurseong
Located at an altitude of 4864 ft, Kurseong is a beautiful hamlet in Darjeeling district of West Bengal. The serenity, cleanliness and beauty of this place, away from the hush bush of commercialized hill stations, are indeed very refreshing. Away from the crowd of seasonal tourists, this place offers you a calm and peaceful holiday. Kurseong is basically known for its premium tea gardens,
Lloyd's Botanical Garden
Lloyd's Botanical Garden is a 'one of its kinds' botanical garden in the Darjeeling city of West Bengal. Spread in about 40 acres of land, this botanical garden boasts of housing several endangered and exotic species of fauna. Established in 1878, it was intended to be a distant annexe of the Calcutta Botanical Garden.
Mirik
Mirik is a beautiful hamlet, nestled amidst the eastern Himalayas, in Darjeeling. The place offers abundant natural beauty, a salubrious weather and serene atmosphere to the tourists. Located at an elevation of about 4904 feet, this place is about 55 km from Siliguri and 50 km from Darjeeling. The beautiful forests of pine, cardamom and oranges, along with the wild flowers, adorn the lanscape of Mirik. Blooming apple orchards and flowering tea gardens are the other major attractions in Mirik.
Natural History Museum
There are numerous wildlife sanctuaries and botanical gardens in Darjeeling, which offer a glimpse into the colorful world of its flora and fauna. Bengal Natural History Museum in Darjeeling is one of them. Established in 1903, it provides visitors with a wonderful view of rich flora and fauna of the hill resort and its surrounding areas.
Peace Pagoda
Japanese Peace Pagoda is one of the most popular attractions in the Darjeeling city of West Bengal. It is one of those Peace Pagodas (Buddhist stupas) in the world that have been established with the aim of creating a special niche for enlightening people from all religions, creeds and origins, to come together and work for world peace. It was build under the supervision of a Buddhist Monk, Nichidatsu Fujii,
Sandakphu
Sandakphu, situated at the edge of Singalila National Park, is the highest point of the Singalila Ridge. Perched at an altitude of 3636 meters, it also forms the highest peak in West Bengal. The peak houses a small hamlet, by the same name, which is quite popular amongst the tourists coming to Darjeeling.
Tiger Hill
Tiger Hill is the top-most point of Ghoom, the highest railway station of the Darjeeling Himalayan Railway (Toy Train). Situated at a distance of about 11 km from the major township of Darjeeling, Tiger Hill is perched at an elevation of 8,500 ft and forms one of the highest hills in its immediate surroundings.
Tourist Attractions
Darjeeling is blessed with beautiful landscape and pleasant weather. Nestled amidst rolling mountains, the first sight of this serene city is enough to captivate a tourist. Boasting of a strategic location and unbound beauty, this place has been a major tourist destination of India since the British era. The cultural diversity, historical connexion, delicious cuisines,
Toy Train
A ride in the Toy Train of Darjeeling is one of the things-to-do that you must not miss if you have planned a trip to West Bengal. The train, officially named 'Darjeeling Himalayan Railway', is basically a two feet narrow-gauge line. It is maintained by Indian Railways and runs between New Jalpaiguri and Darjeeling.
Trekking in Darjeeling
Blessed with lush greenery and salubrious weather, Darjeeling not only provides peace and rejuvenation to the mind and soul of a person, but also offers him the opportunities of wild adventure and sheer fun. It is said that Darjeeling was the first place in India where trekking expeditions came into fashion.
War Memorial Darjeeling
The War Memorial stands as a reminiscence of the Gurkha martyrs of Darjeeling, who sacrificed their lives for their country in the wars and operations that have taken place since independence. In 1976, Manish Gupta, the then Deputy Commissioner of Darjeeling,
Weather In Darjeeling
Darjeeling is one of the most beautiful cities of West Bengal. Nestled amidst the Eastern Himalayas, it not only offers you pleasing scenic grandeur, but also an experience of being amongst an area so unique and so different from the other parts of the country.